Card Factory jobs and careers advice. You can also download Card Factory Application Form if available, otherwise there will be a link to the Card Factory job site for you to apply online.

Card factory is the second largest card retailer in the UK, with over 500 stores. They offer a number of vacancies throughout their stores, even if you're just looking for something temporary.
Card factory are looking for friendly, reliable staff who can work under pressure, as at certain times of the year, holiday seasons, it can get pretty hectic in store at times.
To apply to work at the Card Factory, you need to download and print off their application form, when sending it into the store you wish to work at, it's advised to send a copy of your CV along with a covering letter, if you wish. You CV needs to be up to date, and your covering letter is just a little extra to get your personality and eagerness of the job across to your potential employer.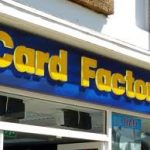 If you get called back for an interview, it's a simple 1:1 interview where you will be asked general questions so the interviewer can get a better idea if you're suitable for the job role. Try to get to your interview 5-10 minutes early and wear something smart as first impressions go a long way.
We have 480 stores nationwide… and growing, so we're bound to have a store close by. Enter your postcode or nearest town to find your nearest Card Factory store.
Working at the Card Factory, you will be entitled to a number of rewards; staff discount (how much all depends on the store), personal training and development programs and an attractive holiday allowance.
The salary for a store manager at the Card Factory is between £16,000 and £18,000pa. For a general sales assistant, you're looking at earning national minimum wage, currently £6.08ph.
Read more about Card Factory job applications in 2012.
Have your say!
comments