Give some examples of teamwork is one of the greatest questions you can be asked in an interview. There is so much scope in this question to show off a whole host of desirable traits to your potential boss. You don't need to use professional examples; you can offer experiences you may have had with friends, family or even a sport or hobby! What your prospective employer is looking to find out here is how open you are to discussion of ideas, and how well you can interact with others. A great kind of example to give here would be an example where you had an idea you wanted to run with, but in the end went with someone else's for the benefit of the team, or where a member of your team had a personal goal they couldn't attain, so you all worked together to achieve it. Here are a few examples.
Answer 1
"I used to be a football coach for a small local team, having had to stop playing myself due to an injury. We had an important match one weekend and one of the players was unwell and unable to attend. Faced with the decision to forfeit the match we decided that I could play in his place for the benefit of the team. I was mostly 'carried' by my team mates but we managed to win the match"
Answer 2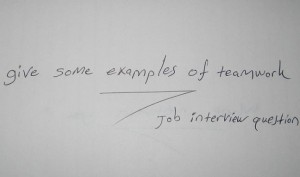 "I used to work in a pub where we had to think of entertainment options for quieter nights. I had thought about hiring a band to come in and play on a Wednesday, and then other members of the bar staff suggested that instead we all showed our own talents off to the customers instead. So we went with that idea and put on a kind of variety show. The customers loved it, we all had such fun, it bonded us all more as a team and it saved the bar money."
Answer 3
"Once a group of friends and I were walking through a wooded area on a pleasure walk. We became aware of someone calling for help, and following the shouts came across a young boy who had fallen down a ravine. None of us had signal on our phones and the young boy was obviously injured. My friend who was trained in first aid was helped down to the boy by using my jacket to lower him to a suitable distance where he could safely drop down, whilst I and another friend raced through the woods in opposite directions to raise assistance. When I was far enough out of the woods I managed to get signal on my phone and called the fire brigade, and they arrived at the entrance my friend had ran towards so he guided them to the ravine."
The main point to make is that you are easy to get along with, muck in, and will listen to others ideas.
Read more: How to answer Give some examples of teamwork interview question.
Have your say!
comments