Legal Secretary CV Example
Legal Secretary CV example and template. Amend as suitable and use it for your job applications.
You can find Legal Secretary job vacancies on the job sites online including cv-library.co.uk, learnist.org, totaljobs, reed, jobsite etc. Visit them today and start searching for current vacancies and apply for the ones that are near you or you are prepared to relocate.
– Legal Assistant job application letter example
– Legal Secretary cover letter example
– Cover letter sample for a Legal Secretary
Here is your Legal Secretary CV Template: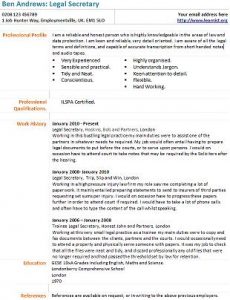 Ben Andrews: Legal Secretary
0208 123 456789

1 Job Hunter Way, Employmentville, UK. EM1 5LO

Your email address here

Professional Profile

I am a reliable and honest person who is highly knowledgeable in the areas of law and data protection. I am keen and reliable, very detail oriented. I am aware of all the legal terms and definitions, and capable of accurate transcription from short handed notes and audio tapes.

Very Experienced
Sensible and practical.
Tidy and Neat.
Conscientious.

Highly organised.
Understands Jargon.
Keen attention to detail.
Flexible.
Hard Working.

Professional Qualifications.

ILSPA Certified.

Work History

January 2010 – Present

Legal Secretary, Hoskins, Bob and Partners, London

Working in this bustling legal practice my main duties were to assist one of the partners in whatever needs he required. My job would often entail having to prepare legal documents to put before the courts, or to serve upon persons. I would on occasion have to attend court to take notes that may be required by the Solicitors after the hearing.

January 2008- January 2010

Legal Secretary, Trip, Slip and Win, London

Working in a high pressure injury law firm my role saw me completing a lot of paperwork. It mainly entailed preparing statements to send to insurers of third parties requesting set sums per injury. I would on occasion have to progress these papers further in order to attend court if required. I would have to take a lot of phone calls and often have to type the content of the call whilst speaking.

January 2006 – January 2008

Trainee Legal Secretary, Honest John and Partners, London

Working at this very small legal practice as a trainee my main duties were to copy and fax documents between the clients, partners and the courts. I would occasionally need to attend a property and physically serve someone with papers. It was my job to check that all the files were neat and tidy, and discard professionally any old files that were no longer required and had passed the threshold set by law for retention.

Education

GCSE

10xA Grades including English, Maths and Science.

Londonberry Comprehensive School

London

1970

References

References are available on request, or in writing to the above previous employers.
You can get Legal secretary cv template in doc format and start working now!
Copyright Notice
These CV templates are the copyright of Learnist.org, 2012. Jobseekers may use these CV examples for their own personal use to help them create their own CVs. You are most welcome to link to https://www.learnist.org/legal-secretary-cv-example/. However they may not be distributed or made available on other websites without our permission. If you have any question then contact us!