How to answer "What can you contribute to this company?" interview question.
This question is posed as an opportunity to explain to your interviewer what you have achieved in the past and what you think you can bring to your role with this new company. When answering this question bear in mind successes of your previous employments, and use these as a way to back up what you will be doing to help your new company. Think of all of your skills as assets, and use this as a chance to sell those assets to your prospective employer. Always answer in the form of "I will bring the company…." not "I could…." So for example:
"I'm Hard working"- Explain that you enjoy carrying out duties assigned to you, and will always ensure that your job is complete.
"I'm a team player"- Explain that you enjoy working with others.
"I can work off my own initiative"- Although it's good to work as a team, be sure to point out that you can be trusted to do your job without need to be supervised.
"I have experience"- Explain what experience you have in this particular field.
"I am keen to learn"- Explain that you are eager to learn new processes and systems etc.
"I am punctual and efficient"- Place emphasis on the fact that you are good with time keeping and planning.
"I am loyal"- Explain that you have carefully chosen which companies you wish to work for, and if chosen you will be intending to make a career with that company.
"I have a good attendance record"- Don't miss an opportunity to let the prospective employer know if you rarely have sick days etc., reliability is one of the most important factors in hiring new staff.
Then go on to give examples of what you have done for previous employers. Use as many positive examples of where you have gone above and beyond your duties, or done something really great for the company.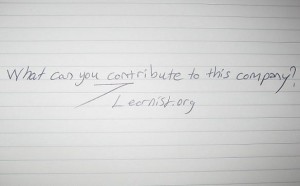 "In 2009, I increased the subscription base of the magazine I worked for by 40%. It was the best year for sales on record."
"I arranged an entire weekend music festival at the bar I worked in, single handedly."
"I once had to work a 18 hour shift as my colleague hadn't turned up to relieve me of my duties when I worked as a counter clerk in a petrol station, and I could not close such an important facility."
"The role described fits exactly with the role I have just left, so I feel I have excellent experience in the field of xxx and would be a perfect fit for the role and the company."
"In my last employment, I worked for the company for three years and did not have one day off due to sickness."
Read more: How to answer What can you contribute to this company? interview question.
Have your say!
comments