Administrative cover letter example will help you write your own Administrative job application letter in seconds.

You should amend this letter sample as suitable first and then apply for job vacancies.
Administrator covering letter example : Check out latest administrator job application letters.
Administrator Cover letter sample : Very well written coverin letter for your job applications.
Administrator CV example : Another Administrator CV example.
Administrator salary: How much salary can you expect for a Admin job?
Administrator interview: Learn more about job interviews.
Jane Brown
101 Any Road, Every Town, XX1 1YY
__________________________________________________________________
Mr John Smith
ABC Company
All Streets
Any Town
AA1 1ZZ
(Date)
Dear Mr Smith
I understand from your website that you are currently recruiting for a number of junior administrative positions in your company. I am very interested in applying and enclose my CV for your consideration.
I left school last year and have spent the time between then and now developing further my IT skills at college and working part-time in retail. My work experience has helped me to develop skills in communications, team working and numeracy and I was also given extra responsibility in stock control after a few months of employment. I have been commended as a punctual and reliable worker.
I have excellent knowledge of the full suite of Microsoft Office products, e-mail and social media sites. I have a fast typing speed and can work accurately and efficiently. As I am adaptable, I am sure that I can meet the requirements of any of the vacancies that you have.
I would appreciate the chance to discuss the different posts on an informal basis and will contact you within the next few days to check if this is possible. I can be contacted on (phone number) or at (e-mail address) if you would like to take my application further. Both my college and my current line manager can provide positive references at any time.
Thank you for your consideration. I look forward to hearing from you.
Yours sincerely
Jane Brown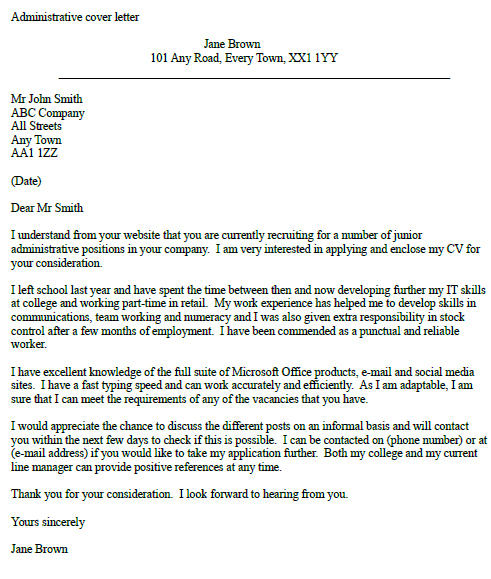 Good luck with your job hunt!