HR Advisor CV example and template. Amend as suitable and create your CV ins seconds. You can apply for the latest job vacancies after creating your new CV.

HR Advisor job vacancies are available on the major job sites online. Visit those job boards and start searching for the vacancies.
If you want to support your job application you should write a cover letter as well. You can take a look the examples of cover letters on our job forum.
Here is the HR Advisor CV Example: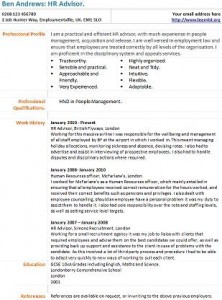 Ben Andrews: HR Advisor.
0208 123 456789

1 Job Hunter Way, Employmentville, UK. EM1 5LO

Your email address here

Professional Profile

I am a practical and efficient HR advisor, with much experience in people management, acquisition and release. I am well versed in employment law and ensure that employees are treated correctly by all levels of the organisation. I am proficient in the disciplinary system and appeals services.

Trustworthy.
Sensible and practical.
Approachable and Friendly.
Very Experienced.

Highly organised.
Neat and Tidy.
Intuitive.
Flexible.
Adaptable.

Professional Qualifications.

HND in People Management.

Work History

January 2010 – Present

HR Advisor, British Flyways, London

Working for this massive airline I was responsible for the wellbeing and management of all staff employed by BF at the airport in which I worked in. This meant managing holiday allocations, monitoring sickness and absence, devising rotas. I also had to advertise and assist in interviewing of prospective employees. I also had to handle disputes and disciplinary actions where required.

January 2008- January 2010

Human Resources officer, McFarlane's,London.

I worked for McFarlane's as a Human Resources officer, which mainly entailed in ensuring that all employees received correct remuneration for the hours worked, and received their correct benefits such as pensions and privileges. I also dealt with employee counselling, should an employee have a personal problem it was my duty to assist them to handle it. I also had sole responsibility over the rota and staffing levels, as well as setting service level targets.

January 2007 – January 2008

HR Advisor, Simons Recruitment, London

Working for a small recruitment agency it was my job to liaise with clients that required employees and advise them on the best candidates we could offer, as well as providing back up support and assistance to the client in case of problems with the candidate. As this involved a lot of third party process and procedure I had to be able to adapt very quickly to new ways of working to suit each client.

Education

GCSE

10xA Grades including English, Maths and Science.

Londonberry Comprehensive School

London

2001

References

References are available on request, or in writing to the above previous employers.
Copyright Notice:
This CV Example cannot be published on any other site without prior permission however you are more than welcome to link to this page.