Cover letter example for a IT Support Technician job. You can amend this cover letter as suitable and apply for latest online jobs.
IT Support Technician Cover Letter Example
George Karan
Hiring Manager
Learnist Ltd
30 Viva Street
London
6BH 11CH
20 May 2020
Dear HR
I should like to apply for the role of IT Support Technician as advertised recently.
I am a skilled technician capable of identifying problems, repairing problems, helping end users, updating systems, installing new hardware and software, installing cables, troubleshooting computers and basic networks, inventorying IT assets, documenting systems, and supporting the IT department in multiple capacities.
As an IT support specialist, I feel that it is vital to be a strong communicator as, for example, I have to understand what inexperienced end users are trying to explain particularly as this position requires extensive discussions over the phone.
I regularly have to conduct remote diagnostics for a number of employees who are based in other buildings, or who are travelling on behalf of the company.
I also work as part of the IT team, providing IT support desktop assistance to other workers directly.
I have the appropriate training and a professional certification validating my IT support management skills, including CompTIA's A+ certification.
I feel I have all the pre-requisite requirements for this role as this certification validates the basic computer and networking skills needed to become an IT support technician.
I enclose my CV which also details my other software certifications, and am available for interview at your convenience. References are available on request and I very much look forward to hearing from you as appropriate.
Yours faithfully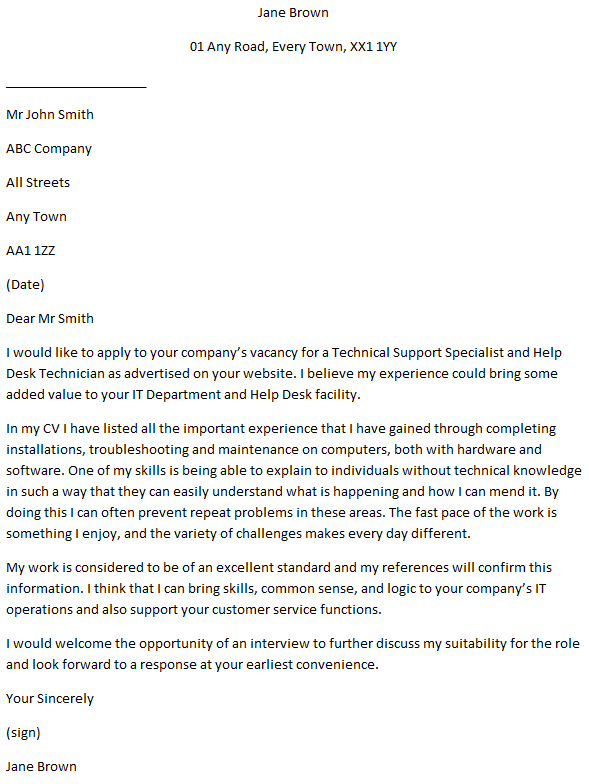 IT Support Technician Cover Letter
Dear Mr Wade,
I would like to apply to your company's vacancy for a Technical Support Specialist and Help Desk Technician as advertised on your website. I believe my experience could bring some added value to your IT Department and Help Desk facility.
In my CV I have listed all the important experience that I have gained through completing installations, troubleshooting and maintenance on computers, both with hardware and software. One of my skills is being able to explain to individuals without technical knowledge in such a way that they can easily understand what is happening and how I can mend it. By doing this I can often prevent repeat problems in these areas. The fast pace of the work is something I enjoy, and the variety of challenges makes every day different.
My work is considered to be of an excellent standard and my references will confirm this information. I think that I can bring skills, common sense, and logic to your company's IT operations and also support your customer service functions.
I would welcome the opportunity of an interview to further discuss my suitability for the role and look forward to a response at your earliest convenience.
Sincerely,