Not sure which career to choose in Media and Creative? Check out our Creative and Media jobs list to inspire.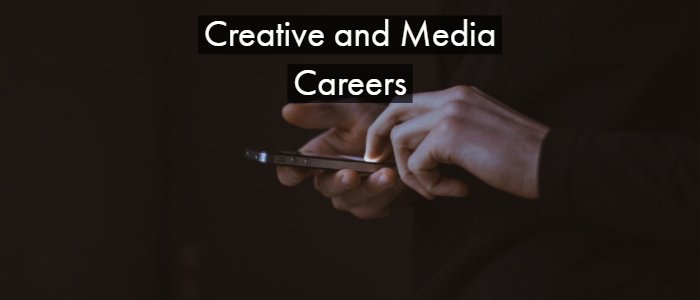 1- Actor
Actors use speech, movement and expression to bring characters to life in theatre, film, television and radio.
2- Account handler
Advertising account executives provide the link between an advertising agency and its clients.
3- Advertising account planner
Related jobs: Strategic planner
Advertising account planners develop and plan advertising campaigns to make sure they reach the right audience.
4- Advertising art director
Related job: Creative
Art directors design the visual side of advertising campaigns for all kinds of media including film, TV, web or print.
5- Advertising copywriter
Related jobs: Copywriter, creative, advertiser
Advertising copywriters produce words for print, TV, radio and online adverts.
6- Advertising media buyer
Related job: Media buyer
Media buyers book advertising space in newspapers and magazines, and on TV, radio and the internet.
7- Advertising media planner
Advertising media planners decide which media is best suited to advertising their client's products or services.
8- Animator
Animators bring drawings and computer generated characters to life on screen.
9- Antique Dealer
Antique dealers buy and sell old objects and collectors' items.
10- Architect
Architects design new buildings and the spaces around them, and work on the restoration and conservation of existing buildings.
11- Architectural technician
Architectural technicians work closely with architectural teams on the design process of building projects.
12- Architectural technologist
Architectural technologists manage all stages of the technical design and planning process of building projects.
13- Archivist
Related jobs: Curator, records manager
Archivists look after and preserve collections of historical records and documents.
14- Art editor
Art editors use words and images to make magazines look good and easy to read.
15- Art gallery curator
Art gallery curators manage collections of paintings and objects.
16- Art therapist
Related job: Art psychotherapist
Art therapists help people express difficult thoughts and feelings through creative activities.
17- Art valuer
Art valuers give advice on how much a piece of art or a collection of art is worth.
18- Arts administrator
Arts administrators help to organise events and exhibitions, manage staff, and look after buildings like theatres or museums.
19- Audio-visual technician
Audio-visual technicians install and operate visual, sound and lighting equipment at conference centres, schools, colleges and events.
Blacksmith
Related jobs: Forge worker, artist blacksmith
Blacksmiths work with different metals to make and repair decorative, industrial and everyday items.
20- Bookbinder
Related job: Print finisher
Bookbinders turn printed paper into books and catalogues using machines, and traditional hand binding methods for specialist books.
21- Bookseller
Booksellers buy books from publishers or wholesalers and sell them to customers.
22- Broadcast engineer
Broadcast engineers make sure television, radio and online programmes are broadcast at the right times and are high quality.
23- Broadcast journalist
Broadcast journalists research and present news stories and factual programmes on TV, radio and the internet.
24- CAD technician
Computer-aided design (CAD) technicians use software to design buildings, machinery, goods and components.
25- Ceramics designer-maker
Ceramics designer-makers design and create products made from clay.
26- Choreographer
Choreographers design sequences of steps and movements, usually accompanied by music, for dancers and other artists to perform.
27- Cinema projectionist
Cinema projectionists operate the equipment that shows films in cinemas.
28- Circus performer
Circus performers entertain audiences with displays of skills like acrobatics and clowning.
29- Classical musician
Classical musicians and singers perform music in concert, or on film, TV, or radio recordings.
30- Commissioning editor
Commissioning editors commission or buy authors, book titles or ideas for publication.
31- Community arts worker
Community arts workers help local communities plan and take part in activities like drama, dance, painting and photography.
32- Computer games tester
Related jobs: Games tester, quality assurance tester, video games tester
Computer games testers play computer games to check they work, and find and record problems or 'bugs'.
33- Conference and exhibition manager
Related job: Conference organiser
Conference and exhibition managers plan and run events like trade shows, conferences and exhibitions.
34- Conservator
Related job: Conservation officer
Conservators preserve and restore historical objects, artworks and buildings.
35- Copy editor
Copy editors check text before it's published in books, journals and websites.
36- Costume designer
Costume designers are responsible for the overall look of the clothes and costumes in theatre, film or television productions.
37- Dance teacher
Dance teachers train and develop their pupils in all types of dance.
38- Design and development engineer
Related jobs: Research engineer, industrial designer
Design engineers improve product performance and efficiency while researching and developing new manufacturing ideas and systems.
39- Digital marketer
Related jobs: Online marketing executive, digital marketing executive, internet marketing officer, digital marketing officer
Digital marketers promote brands, products and services through social media, websites and apps.
40- Director of photography
Related jobs: DP, DoP, Cinematographer
Directors of photography manage lighting and camera crews on TV and film productions to create the right look and feel for images.
41- Drone pilot
Related jobs: Unmanned aerial vehicle pilot, UAV pilot
Drone pilots remotely operate aircraft used in work like surveying, filmmaking and aerial photography.
42- Editorial assistant
Related job: Publishing assistant
Editorial assistants provide support at all stages of the publication process for books, journals, magazines and online content.
43- Ergonomist
Related job: Human factors specialist
Ergonomists help to make sure that equipment and machinery is safe and easy to use.
44- Fashion design assistant
Fashion design assistants help designers to create new materials, styles, colours and patterns for fashion brands and labels.
45- Florist
Florists sell flowers and design bouquets for weddings, funerals and special occasions.
46- Furniture designer
Furniture designers create designs for mass-produced furniture, furniture made in small batches and one-off pieces.
47- Graphic designer
Graphic designers create visual branding, adverts, brochures, magazines, website designs, product packaging and displays.
48- Interior designer
Interior designers plan and supervise the layout and decoration of the inside of buildings.
49- Lighting technician
Lighting technicians set up and operate lighting for concerts, conferences and theatre, or in film and TV productions.
50- Live sound engineer
Live sound engineers control the sound at events like theatre performances, music concerts and festivals.
51- Make-up artist
Make-up artists apply make-up and style hair for people appearing on camera or in front of a live audience.
52- Market researcher
Related job: Market researcher interviewer
Market researchers interview people to find out what they think about products, services or issues.
53- Marketing director
Related job: Managing director
Marketing directors plan ways to promote products or brands and increase their company's share of the market.
54- Marketing executive
Related jobs: Marketing officer, assistant marketing planner
Marketing executives promote a company's products, services or brand.
55- Marketing manager
Related jobs: Brand manager, account manager
Marketing managers plan how to promote products, services or brands and oversee all marketing activity.
56- Media researcher
Media researchers support producers by finding information, people and places for television or radio programmes.
57- Music teacher
Music teachers give music lessons to people of all ages and abilities.
58- Newspaper journalist
Related jobs: Reporter, press officer
Newspaper journalists investigate and write up stories for local, regional and national newspapers.
59- Photographer
Photographers take and process pictures of people, places, products and events.
60- Public relations officer
Related jobs: PR officer, PR executive, communications officer, press officer
Public relations (PR) officers manage an organisation's public image and reputation.
61- Retail merchandiser
Retail merchandisers make sure that goods are in the right stores, or online, at the right time and the right price.
62- Sales manager
Sales managers organise, coach and lead teams of sales representatives to work towards agreed targets.
63- Sports commentator
Related jobs: Sports announcer, sports presenter, pundit
Sports commentators describe what's happening at sporting events to listeners and viewers and offer their opinions.
64- Stage manager
Stage managers makes sure the sets, equipment and props are ready for the opening of a performance.
65- TV or film assistant director
Assistant directors support directors by organising and planning everything on TV or film sets.
66- Tailor
Tailors design and make one-off suits, jackets and coats for individual customers. They also alter and repair clothes.
67- Tattooist
Related job: Body artist
Tattooists create permanent artwork on their clients' bodies.
68- Taxidermist
Taxidermists preserve mammals, birds, reptiles and fish for display in museums or private collections.
69- Technical author
Related jobs: Technical copywriter, technical editor
Technical authors write documents and guides that explain how to use products and services.
70- Textile designer
Textile designers create fabric designs and patterns for woven, knitted and printed materials for clothes and interior furnishings.
71- Translator
Translators convert the written word from the 'source language' into the 'target language', making sure that the meaning is the same.
72- Video editor
Related job: Film editor
Video editors bring together images and sound for use in film, TV and online productions.
73- Web content editor
Related jobs: Content designer, web content designer, digital editor, online content producer
Web content editors research, write and manage an organisation's online content, including text, images, video and other media.
74- Web designer
Web designers use their creative and technical skills to design new websites and redesign existing ones.