Cover Letter Example for a Review
Dear Sir/Madam,
This mail is in reference to the job vacancy you have advertised for the post of Database Assistant. I have been involved in similar roles and majority of my experience has been within the data entry sector, and I am confident I would prove to be an excellent employer to you.
I am hardworking, trustworthy person with high dedication to his work. I am enthusiastic about my work and always keen to learn. I can handle the pressure with ease as I have been working in the similar circumstances of deadlines. I own good communication skills and time management has always been a part of my work. Having a good sense of humour, I am an excellent team player. I have Built excellent communication and interpersonal skills gained through work experience and education. Reliable, honest and able to work under pressure within a team or on own initiative.
I had been working as a part-time Data Management Staff for a college. The job included entering student's data into bespoke software. As a data management staff, I was also responsible for handling and maintenance of the files, indexing and storing them. Other work involves general office duties like printing, scanning, preparing documents and spread sheets etc. I have also worked in a government and public sector office in London. I have also worked as an Office Junior under the finance department and was responsible for data entry, file management and archiving, and general office works. I have always set a high standard in my job and have been credited by my supervisors for my work.
I am proficient with PC and can type 45-50 words per minute. I am excellent in MS-OFFICE programs and handy over other packages too. I have taken the hardware and networking course and possess a good knowledge of hardware and networking and can deal with troubleshooting of PC and network. I am acting as a support person responsible for the maintenance and day to day working of computers and network/internet at the college I am studying.
Given a chance, I will make the best use of my existing skills and experience, working hard for uplifting the company towards betterment. I full fill the requirements you have proposed and agree with the time schedules. Please find an attached CV with this mail.
Hope to hear from you soon.
Kind Regards,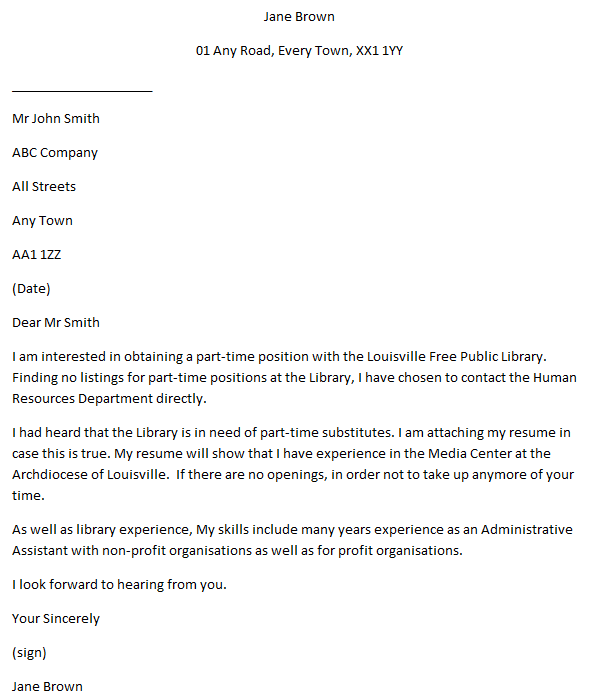 Review My Cover Letter
Dear Sir/Madam:
I am interested in obtaining a part-time position with the Louisville Free Public Library. Finding no listings for part-time positions at the Library, I have chosen to contact the Human Resources Department directly.
I had heard that the Library is in need of part-time substitutes. I am attaching my resume in case this is true. My resume will show that I have experience in the Media Center at the Archdiocese of Louisville. If there are no openings, in order not to take up anymore of your time.
As well as library experience, My skills include many years experience as an Administrative Assistant with non-profit organisations as well as for profit organisations.
I look forward to hearing from you.
Most Sincerely,