Security Guard CV example and template. Amend as suitable and create your own CV in seconds. You can apply for the vacancies via your new CV.

There are hundreds of Security Guard jobs on the job sites online. Visit those major job boards and start searching for current vacancies.
You don't need a degree or any other academic qualifications to become a Security Guard however you will need to have a Security Industry Authority (SIA) licence if you work for a company that provides contract security services to clients.
Once done with your CV then you will need to write a Security Guard cover letter to use at your job applications.
Here is Security Guard CV example: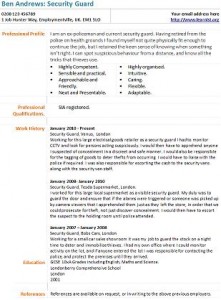 Ben Andrews: Security Guard
0208 123 456789

1 Job Hunter Way, Employmentville, UK. EM1 5LO

Your email address here

Professional Profile

I am an ex-policeman and current security guard. Having retired from the police on health grounds I found myself not quite physically fit enough to continue the job, but I retained the keen sense of knowing when something isn't right. I can spot suspicious behaviour from a distance, and know all the tricks that thieves use.

Highly Competent.
Sensible and practical.
Approachable and Friendly.
Neat and Presentable.

Highly organised.
Intuitive.
Caring.
Flexible.
Adaptable.

Professional Qualifications.

SIA registered.

Work History

January 2010 – Present

Security Guard, Venus, London

Working for this large electrical goods retailer as a security guard I had to monitor CCTV and look for persons acting suspiciously. I would then have to apprehend anyone I suspected of concealment in a discreet and safe manner. I would also be responsible for the tagging of goods to deter thefts from occurring. I would have to liaise with the police if required. I was also responsible for escorting the cash to the security vans along with the security van staff.

January 2008- January 2010

Security Guard, Tesda Supermarket, London.

I worked for this large local supermarket as a visible security guard. My duty was to guard the door and ensure that if the alarms were triggered or someone was picked up by camera viewers that I apprehended them just as they left the store, in order that we could prosecute for theft, not just discover concealment. I would then have to escort the suspect to the holding room until police attended.

January 2007 – January 2008

Security Guard, Bobs Cars, London

Working for a small car sales showroom it was my job to guard the stock on a night time to deter and immobilise thieves. I had my own office where I could monitor activity on the lot, and if anyone entered the lot I was responsible for contacting the police, and protect the premises until they arrived.

Education

GCSE

10xA Grades including English, Maths and Science.

Londonberry Comprehensive School

London

2001

References

References are available on request, or in writing to the above previous employers.
Copyright Notice:
This CV Example cannot be published on any other site without prior permission however you are more than welcome to link to this page.