Cover letter example for a Trainee Mortgage Advisor job vacancy. Amend as suitable and use it for your job applications if you think it's right letter for you.
Trainee Mortgage Advisor Cover Letter Example
Thomas Son
Hiring Manager
Learnist Ltd
130 Viva Street
London
6BH 11CH
05 June 2020
Dear HR,
I would like to apply for the position of Trainee Mortgage Advisor as recently advertised.
I work for a busy firm of Estate Agents, which is part of a national chain. I originally started here as a Saturday assistant, when I was at school and then joined the company full-time, after I graduated from school.
My current role is working as general admin support to the services department; technically we are located separately from the Estate Agency, so as to ensure independence. In my role, I field initial enquiries, arrange appointments to view properties and process applications for mortgages and insurance cover.
I provide administration support to my manager who helps people find and apply for the mortgage they think is right for them based on their personal finances and situation and keeps them fully informed as to the different kinds of mortgages available and guides them through the process.
I liaise with the agency's valuers and mortgage lenders and it is vitally important that I keep up to date with the current market and mortgage and lending Law (Financial Services Authority compliance) and all the products, as we offer a range of products from a variety of lenders, as well as offering our own products.
Our team is also required to hit certain sales targets and, as part of the team, I help ensure that we manage our quotas successfully. This can be quite challenging in today's current economic climate because, as you are aware, the housing market has been quite badly hit these last few years. Fortunately, the firm I work for has an excellent, well-established reputation and very strong marketing skills and so we have been quite busy throughout this period.
I am currently applying to do a distance learning course for the Chartered Insurance Institute (CII) Certificate in Mortgage Advice (Cert MA) exams and would like to progress my career where there is an opening for a trainee mortgage advisor as there is no opportunity to progress further in the firm I am currently working for.
I am available for interview at your convenience and enclose my CV. References are available on request.
Yours faithfully
Juliet Brown
1 Job Hunter Way, Employmentville, UK. EM1 5LO
Tel. 0208 123 456789 – Email: info@learnist.org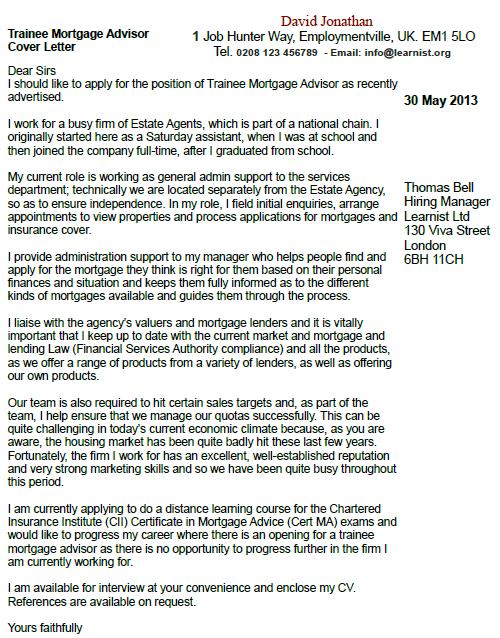 TRAINEE MORTGAGE ADVISER VACANCY
Name
Address
Contact Details
Date
Miss T Maid
Position
Company Name
Company Address
Dear Miss Maid
RE: TRAINEE MORTGAGE ADVISER VACANCY
I am writing regarding the above position and would like to be considered for the role of Trainee Mortgage Adviser.
I have completed a (degree/course name) at (institution name) and have thoroughly enjoyed studying at this level and look forward to starting my career in this field. While studying I have had work placements at an Independent Financial Company (complete a company name if applicable), and have built up an understanding of financial procedures and mortgage applications. I have also demonstrated my ability to verify information on loan applications.
I am a well presented, confident individual with excellent interpersonal skills, dealing with customer enquiries both over the phone and face to face. As I am an assertive person, I enjoy working in a fast paced, challenging environment and I have a proven track record in my work placements for meeting targets and working well within time limits.
Having researched your company, I am sure my skills and qualifications are parallel to your needs and I would appreciate the opportunity to allow me to start my rewarding career with such a reputable company like (company name).
I have enclosed my CV for your information, however, please contact if you wish to discuss in greater detail.
I look forward to hearing from you in the near future.
Yours sincerely (faithfully if Dear Sir/Madam)
Name
Enc