Volunteer CV example and template. Amend as suitable and create your own CV in seconds. If you want to work in Volunteer jobs then you can update your CV with this example.

If you want to build experience for your CV then Volunteer works can be excellent idea for you.
If you require to write a cover letter as well then click here to  view latest covering letter examples.
Have questions about your CV? Visit our job seekers forums.
Here is Volunteer CV template: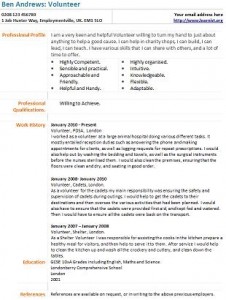 Ben Andrews: Volunteer

0208 123 456789

1 Job Hunter Way, Employmentville, UK. EM1 5LO

Your email address here

Professional Profile

I am a very keen and helpful Volunteer willing to turn my hand to just about anything to help a good cause. I can help in charity shops, I can build, I can lead, I can teach. I have various skills that I can share with others, and a lot of time to offer.

Highly Competent.

Sensible and practical.

Approachable and Friendly.

Helpful and Handy.

Highly organised.

Intuitive.

Knowledgeable.

Flexible.

Adaptable.

Professional Qualifications.

Willing to Achieve.

Work History

January 2010 – Present

Volunteer, PDSA, London

I worked as a volunteer at a large animal hospital doing various different tasks. It mostly entailed reception duties such as answering the phone and making appointments for clients, as well as logging requests for repeat prescriptions. I would also help out by washing the bedding and towels, as well as the surgical instruments before the nurses sterilised them. I would also clean the premises, ensuring that the floors were clean and dry, and seating in good order.

January 2008- January 2010

Volunteer, Cadets, London.

As a volunteer for the cadets my main responsibility was ensuring the safety and supervision of cadets during outings. I would help to get the cadets to their destinations and then oversee the various activities that had been planned. I would also have to ensure that the cadets were provided first aid, and kept fed and watered. Then I would have to ensure all the cadets were back on the transport.

January 2007 – January 2008

Volunteer, Shelter, London.

As a Shelter Volunteer I was responsible for assisting the cooks in the kitchen prepare a healthy meal for visitors, and then help to serve it to them. After service I would help to clean the kitchen up and wash all the crockery and cutlery, and clean down the tables.

Education

GCSE 10xA Grades including English, Maths and Science.

Londonberry Comprehensive School

London

2001

References

References are available on request, or in writing to the above previous employers.
Copyright Notice:
This CV Example cannot be published on any other site without prior permission however you are more than welcome to link to this page.