If you are going to apply for a waiting job then you will need to have a CV that is nicely written as the competition is very high at the moment.
Full-time, part-time, permanent, temporary, seasonal … there are always waiting job vacancies out there on major job boards online, in local papers, on the windows of restaurants, hotels etc.
If you want to apply for a waiting job as a waiter or waitress then you will need to write a CV to apply for the position. If you are just out of education then your CV will be quite limited, but don't forget that waiting staff is mainly dealing with people and you have considerable experience in that even if you haven't had a paid job! If you have already written your CV then you might still want to have a look at our example to make sure you haven't forgotten anything.
Waiter interviews are pretty straight forward. They will want to hear about your work history and things about yourself, how well you work in a team etc. We have a dedicated forum section on our UK job forum giving advice. They are mostly typical interview questions so check them out before your interview day.
A waiting job usually wouldn't pay well however some of them do, especially those restaurants and hotels with rich customers where you can expect substantial tips! These companies will be looking for experienced waiters and waitresses so make sure your CV gives examples of everything you have done in relation to the job.
Salaries start from National minimum wage and goes up to £7.80 maybe more for some locations.
You can use the following CV template for yourself after replacing the information with your own.
Waiter CV Example
[Type the date]
[Type your name]
[Type your phone number]
[Type your e-mail]
[Type your address]
[Type your website]
Personal Summary
Motivated Waiter experienced working in a busy restaurant. Organised individual with excellent customer service and attention to detail. Able to communicate effectively with a range of different people in high pressure situations.
Work Experience
Waiter – Sep-10 – Present
Restaurant | Bristol
Providing excellent customer service to ensure the continued high reputation of the restaurant.
Duties:
•Taking orders and serving guests
•Dealing with customer concerns and complaints in an effective way
•Assisting with training of new staff
Key Skills
•Communicates well with a variety of different people at all levels
•Able to work well within a team
•Able to pick up new processes quickly and efficiently
•Certificate in Food and Beverage Service Level 1
Education
High School
2006 – 2008| A-Levels:
Physical Education (A) Geography (B)
References
Available upon request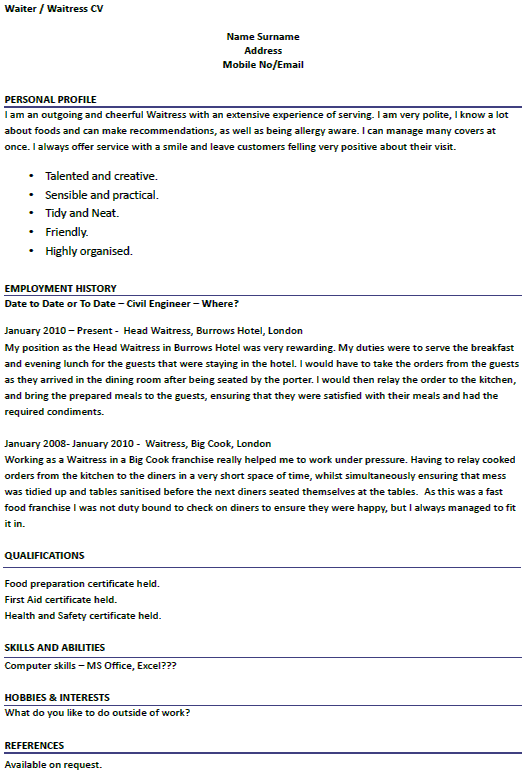 Waitress CV Example
PERSONAL INFORMATION
Name
Address, Post-code
Tel: 01234 567 890
Mob: 07777 123 456
e-mail: example AT hotmail.com
PERSONAL PROFILE
I would describe myself as a well presented, hard-working individual who thrives at the chance of learning new skills. Having worked in hotels and restaurants for over three years, I have gained excellent communication skills and enjoy working with the public. I always like to work quickly but neatly so I can get the task I have been given done in a professional and efficient manner. I like to think I am someone who works well alongside others and easy to get along with as I am a sociable person. Working with colleagues and customers in stressful environments has helped me build my confidence as a person and hopefully will carry on so. I am also willing to take on any training necessary to enable me to carry out my work well.
Now looking for an opportunity to work with a dynamic organisation that appreciates the development of staff, encouraging training and allowing me to contribute to the smooth running of the business.
SKILLS and QUALITIES
Positive Work Attitude Interpersonal Skills Assertiveness Efficient Excellent Time Management Good sense of humour Excellent Attention to Detail Honest & Trustworthy Providing a Customer Focussed Telephone & Face to Face Service Flexible attitude Multi-tasking
EMPLOYMENT/WORK EXPERIENCE
Jun 2011 – Present: Company Name, Town
Waitress
My duties involve customer service, assisting in the kitchen area, attending to customer enquiries and ensuring they receive excellent customer service. I take pride in my work and this job has proved I can multi-task from working in the kitchen, dining area and dealing with cash.
Date – Date: Company Name, Town
Waitress
I was responsible for welcoming customers and residents into the restaurant, taking orders for food and drink. I worked well with other members of staff, listened to instructions and was taught how to lay tables correctly, silver service and preparing/decorating rooms for different functions. I had to work extra and unsociable hours when required and sometimes at very short notice. I was also responsible for dealing with cash and working tills.
Date – Date: Company Name, Town
Waitress
Working with all members of staff, helping out in reception, taking bookings, ensuring the restaurant ran smoothly. I dealt with enquiries face to face and over the telephone, handling them all very professionally. I remained calm at all times, even under extreme pressure in the kitchen area, helping the chef prepare starters and waiting on tables which I really enjoyed.
EDUCATION
2005 – 2011 School/College Name

OTHER INFORMATION
Full Clean Driving Licence Hospitality Training Own Transport IT – Microsoft Word; Excel; Outlook Enjoys listening to music; keeping fit; socialising and cooking
REFERENCES
Available on Request