Nursery Nurse CV example and template. Amend as suitable and create your own CV in seconds. You can apply for the latest Nursery Nurse job vacancies with your newly created CV.

You can find hundreds of Nursery Nurse vacancies on the job sites online and apply for the ones that are near you or you are prepared to relocate.
If you also need to write a cover letter then view examples of covering letters on our job seekers forums.
You can click here to view more CV templates.
Here is your Nursery Nurse CV example: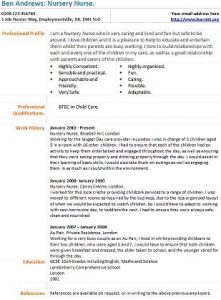 Ben Andrews: Nursery Nurse.
0208 123 456789

1 Job Hunter Way, Employmentville, UK. EM1 5LO

Your email address here

Professional Profile

I am a Nursery Nurse who is very caring and kind and fun but safe to be around. I love children and it is a pleasure to help to educate and entertain them whilst their parents are busy working. I love to build relationships with each and every one of the children in my care, as well as a good relationship with parents and carers of the children.

Highly Competent.
Sensible and practical.
Approachable and Friendly.
Very Safe.

Highly organised.
Fun.
Caring.
Flexible.
Adaptable.

Professional Qualifications.

BTEC in Child Care.

Work History

January 2010 – Present

Nursery Nurse, Bluebell Hill, London

Working for the largest Day care provider in London I was in charge of 3 children aged 5 in a room with 16 other children. I had to ensure that each of the children had an activity to keep them entertained and engaged throughout the day, as well as ensuring that they were eating properly and drinking properly through the day. I would assist in their learning of basic skills. I would also take them on outings as well as engaging them in as much as I could within the environment.

January 2008- January 2010

Nursery Nurse, Canny Crèche, London.

I worked for this local crèche providing childcare services to a range of children. I was moved to different rooms as required by the business, due to the less organised layout of when we would be expected to watch children. So I would have to adapt to working with new-borns one day, to toddlers the next. I had to ensure they were always safe, clean and nourished.

January 2007 – January 2008

Au Pair, Private Residence, London

Working for a very busy couple as an Au Pair, I lived in whilst providing childcare to their two children, who were aged 3 and 7. I would have to ensure that both children were given breakfast and dressed, the elder taken to school, and the younger cared for through the day.

Education

GCSE

10xA Grades including English, Maths and Science.

Londonberry Comprehensive School

London

2001

References

References are available on request, or in writing to the above previous employers.
Copyright Notice:
This CV Example cannot be published on any other site without prior permission however you are more than welcome to link to this page.