Accountant CV example and template. Amend as suitable and use it for yourself.
How I do I find Accountant job vacancies? You can visit popular job sites online and start searching for positions. We would recommend you to visit cv-library.co.uk, totaljobs, reed and Learnist.org.
This example of Accountant CV is provided by Learnist.org and job seekers can use it for their job applications.
– Accountant interview
– Accountant job application example
Here is Accountant CV example!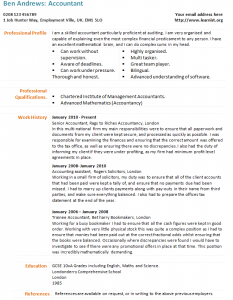 Ben Andrews: Accountant
0208 123 456789

1 Job Hunter Way, Employment Ville, UK. EM1 5LO

Your email address here

https://www.learnist.org

Professional Profile
I am a skilled accountant particularly proficient at auditing. I am very organised and capable of explaining even the most complex financial predicament to any person. I have an excellent mathematical brain, and I can do complex sums in my head.

Can work without supervision.
Aware of deadlines.
Can work under pressure.

Thorough and honest.

Highly organised.
Multi tasker.
Great team player.
Bilingual.
Advanced understanding of software.

Professional Qualifications.

Chartered Institute of Management Accountants.
Advanced Mathematics (Accountancy)

Work History
January 2010 – Present

Senior Accountant, Rags to Riches Accountancy, London

In this multi-national firm my main responsibilities were to ensure that all paperwork and documents from my client were kept secure, and processed as quickly as possible. I was responsible for examining the finances and ensuring that the correct amount was offered to the tax office, as well as ensuring there were no discrepancies. I also had the duty of informing my client if they were under profiting, as my firm had minimum profit level agreements in place.

January 2008- January 2010

Accounting assistant, Rogers Solicitors, London

Working in a small firm of solicitors, my duty was to ensure that all of the client accounts that had been paid were kept a tally of, and ensure that no payments due had been missed. I had to marry up clients payments along with pay-outs in their name from third parties, and make sure everything balanced. I also had to prepare the offices tax statement at the end of the year.

January 2006 – January 2008

Trainee Accountant, Bet harry Bookmakers, London

Working for a busy bookmaker I had to ensure that all the cash figures were kept in good order. Working with very little physical stock this was quite a complex position as I had to ensure that monies had been paid out at the correct fractional odds whilst ensuring that the books were balanced. Occasionally where discrepancies were found I would have to investigate to see if there were any promotional offers in place at that time. This position was incredibly mathematically demanding.

Education
GCSE 10xA Grades including English, Maths and Science.

Londonberry Comprehensive School

London

1985

References
References are available on request, or in writing to the above previous employers.
Click here to download Accountant CV Template in doc format to use it for free.
Copyright Notice
These CV templates are the copyright of Learnist.org, 2012. Jobseekers may use these CV examples for
their own personal use to help them create their own CVs. You are most welcome to link to https://www.learnist.org/accountant-cv-example/.
However they may not be distributed or made available on other websites without our permission. If you have any question then contact us!