Although the qualifications for this role will vary depending on the employer it can be useful to have related qualifications and experience. You have more chance of getting the job if you have a HND or degree in secretarial studies, law, business, management, business with languages or government administration. So make sure that you mention those relevant qualifications, if you have them. Relevant experience could be as or more important.
Make sure you highlight any roles which have included administrative duties or include any of the required skills for the job. These skills are an ability to work with a team, flexibility, time management, organisational, communication, presentation, prioritising, working well under pressure, telephone, IT, meeting deadlines and project management.
Many roles include the need for these skills, so even if you were not working specifically as an administrator before, any office job could be worth a mention. Any secretarial qualification or experience could also be worth highlighting as these will be useful in the role as an administrator. Consider the type of business that you will be working for as well and mention anything of relevance to that, such as if it is with an insurance company, mention and insurance company work you have done in the past.
Administrator Cover Letter Example
Jane Doe
1 High Street
Small Town
07707707070
Jane.doe@example.com
Mr Brown
Web Services Manager
The Service Co.
Riverside Business Park
Big City AB12 3CD
Dear [Insert Name]
Administrator Position at London Office
Further to your recent advert on Learnist.org for an Administrator last week, please find enclosed my CV.
I consider that my skills, experience and knowledge within administration are ideally suited to this vacancy.
"Effective communicator at all levels throughout the company."
Excellent communication and organisation skills developed whilst in my current administration role at [Insert Company] have allowed me to take on additional responsibility in accounts when a recent employee left the company. My duties include document management, general clerical tasks, arranging meetings, reception duties and most recently inputting accounts information.
I note from your website that the company has a passion for encouraging eco-friendly energy. This is also something which I consider is very important, and have been able to reduce the energy consumption of [Insert Company] by initiating a 'Green Policy' which has also saved the company hundreds of pounds.
In summary I believe I will bring efficiency, reliability and accuracy to your office procedures. Please refer to the accompanying CV to provide you with further details of my academic qualifications and skill sets.
Thank you for taking the time to review my application, and I look forward to hearing from you.
Yours sincerely,
Your Name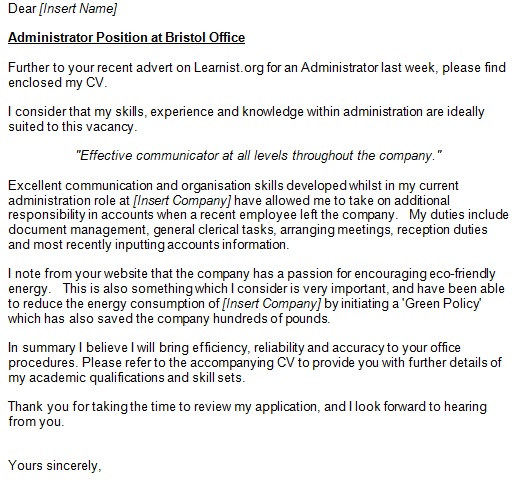 Administrator Cover Letter
Dear Ms Perkins,
I am applying for the position of Administrator at Browns Ltd which was advertised in the Manchester Gazette last week.
I believe I am extremely suited to this position because of my previous work experience, knowledge and long term goals within an administration role.
I have enclosed my CV for your consideration and would like to highlight a few key aspects of my suitability. For the last twelve months I have been working in an administrative role at Turners Ltd, where my duties included telephone answering and message taking, filing and document management, general clerical tasks, organising meetings and reception work. I work well on my own initiative but equally enjoy working as part of a team.
My achievements range from setting up efficient administrative systems to team leading and complete office management. From this experience I believe I will bring efficiency, reliability and accuracy to your office procedures. Please refer to the accompanying CV to provide you with further details of my academic qualifications and skills.
I appreciate very much the time you have taken to read my application and I look forward to the opportunity of an interview to discuss my suitability further. I look forward to a response at your earliest convenience.
Yours sincerely,