If you are an Administrator and are looking to update your CV including your personal profile then you need to be able to sell your administration skills and show an employer what you can do and how you have achieved this.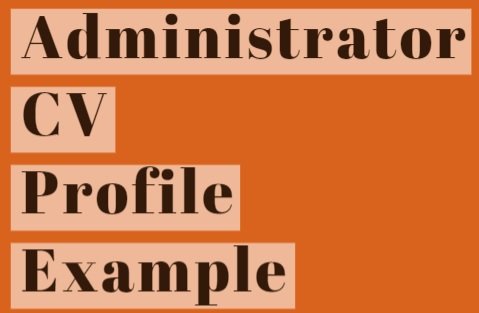 A personal profile is a snapshot of your skills and experiences so it does not need to be very long and indeed you do not want it making your CV look too long so stick to the facts but aim to sell what you are good at and what they would be most interested in from reading the job description or advert.
CV Profile Example for Administrator
I am an organised professional with a good solid background in Administration. Due to my methodical working practice and my interest in learning I have done a number of administrative related courses which have helped in my working life. I feel that I perform well in this role. I like working in a methodical and efficient manner and do not like to leave work undone.
I have gained excellent time management skills through a recent course I have done and this has helped with my planning and organizing of my work load allowing me to prioritize the work that I have to do. I have a confident approach to working with computers and am used to altering and formatting documents, typing reports and ensuring that business documents look in a professional manner at all times.
I am keen to learn further skills to improve my experiences and skills for my employer and I am happy to do this in my own time if necessary. I am happy to provide support to other departments should they need any help as I believe this adds to my profile and skills. I work very hard and enjoy being busy at all times. I am very thorough and efficient in my work and would like to continue working in an administrative role and work towards being an office manager one day.