Administrator CV example and template. Amend as suitable and use it for yourself.
You can find thousands of Administrator job vacancies on the job sites online. You can visit cv-library.co.uk, reed.co.uk, totaljobs.com and start searching for suitable positions that are near you or you are prepared to relocate for.
Administrator covering letter example : Check out latest administrator job application letters.
Administrator Cover letter sample : Very well written coverin letter for your job applications.
Administrator CV example : Another Administrator CV example.
Administrator salary: How much salary can you expect for a Admin job?
Administrator interview: Learn more about job interviews.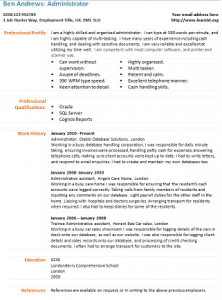 Ben Andrews: Administrator
0208 123 4567891 Job Hunter Way, Employment Ville, UK. EM1 5LO
Your email address herehttps://www.learnist.org
Professional Profile
I am a highly skilled and organised administrator. I can type at 390 words per minute, and I am highly capable of multi-tasking. I have many years of experience including cash handling, and dealing with sensitive documents. I am very reliable and excellent at utilizing my time well.  I am competent with most computer software, and printer and scanner use.

Can work without supervision.
Aware of deadlines.
390 WPM type speed.
Keen attention to detail.
Highly organised.
Multi tasker.
Patient and calm.
Excellent telephone manner.
Cash handling skills.

Professional Qualifications.

Oracle
SQL Server
Cognos Reports

Work History
January 2010 – PresentAdministrator, Diablo Database Solutions, London

Working in a busy database handling corporation, I was responsible for daily minute taking, ensuring invoices were processed, handling petty cash for expenses, answering telephone calls, making sure client accounts were kept up to date. I had to write letters, and respond to email enquiries. I had to create and maintain my own databases too.

January 2008- January 2010

Administrative assistant, Angels Care Home, London

Working in a busy care home I was responsible for ensuring that the resident's cash accounts were logged correctly. Taking calls from family members of residents and inputting any comments on our database. Light payroll duties for the other staff in the home. Liaising with hospitals and doctors surgeries. Arranging transport for residents when required. I also had to keep diaries for some of the residents.

January 2006 – January 2008

Trainee Administrative assistant, Honest Bob Car sales, London

Working in a busy car sales showroom I was responsible for logging details of the cars in stock onto our database, as well as our website. I was also responsible for logging client details and sales records onto our database, and processing of credit checking documents. I often had to arrange transport for customers to the site.

Education
GCSELondonderry Comprehensive School

London

2005

References
References are available on request, or in writing to the above previous employers.
Copyright Notice
These CV templates are the copyright of Learnist.org, 2012. Jobseekers may use these CV examples for
their own personal use to help them create their own CVs. You are most welcome to link to this page.
However they may not be distributed or made available on other websites without our permission. If you have any question then contact us!