Cover Letter Example for a Bookkeeper
Amend this letter example as suitable and then use it for free for your job applications.
Bookkeeping Cover Letter Example
Address Line 1
Address Line 2
Address Line 3
Address Line 4
Address Line 5
27th December 2020
Dear Sir / Madam
I am writing to you with regards to the recent position for the Bookkeeping Job that I saw advertised on learnist.org
I am currently working as a (insert title) at (insert company) which has given me excellent experience of working in the finance profession with a focus on tax and bookkeeping.
Please find attached my current CV, which further details my experience along with my technical skills and qualifications.
I have excellent attention to detail, strong communication skills and I am a positive team player. I feel that these skills combined with my enthusiasm and my technical abilities make me a serious candidate for the position.
I have the skills and experience required to competently take on this role and am confident that I would work to exceed your expectations.
I very much look forward to hearing from you and thank you for considering my application.
Yours Sincerely,
Your Name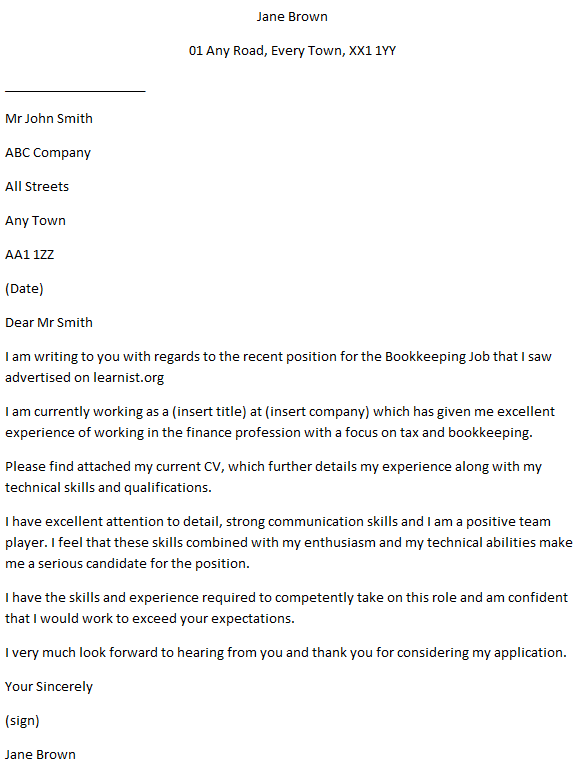 Cover letters are the intimation to the receiver of the letter as to what he or she is to find in the enclosure. The Financial Cover Letters are some of those letters which have to be drafted with extreme care and research about the topic under concern since they deal with the financial matters. Some of the letters have the detailed accounting of the expenses which have be done or which have to be done in the near future. Talking about the financial letters, there are certain terms and phrases which are peculiar in use for the financial letters and hence it is necessary to get accustomed to these terms for drafting an impressive financial letter.
Some of the general terms like 'credit', 'debit', 'due date', etc are well aware even to the naive writers. However, there are certain more specific terms which have to be mastered in order to attain the upper hand in writing the effective Financial Cover Letters. A specific format has been followed by the experts in the finance and accounting field so as to make the interpretation of the intimation exact and less time consuming. Hence, before starting to get involved in the process of writing the letters, it is advisable to go through the letters which have been drafted by the more experienced ones in this field.
Now, it is an usual conception that the Financial Cover Letters should have their topic or subject explained in the first couple of lines; as in, 'This letter has been drafted regarding the —'. Likewise the expected enclosure and the provided enclosure should also be mentioned quite vividly. This helps the receiver frame an idea as what has been asked prior to this letter, what has been provided and what can be expected in the near future.