Burger King cover letter example for a team member position. You can amend this letter as suitable and apply for latest job vacancies.

Burger King job application covering letter example:
Jessica Carter
Hiring Manager
Learnist Ltd
30 Viva Street
London
6BH 11CH
20 May 2014
Dear Sirs,
Having seen your current vacancy for Burger King Team Member advertised in your store I write to apply for the position.
I have had the opportunity to demonstrate my customer service ability whilst volunteering at local fetes where it was my aim to ensure each consumer was served in a reasonable time and satisfied with their purchase. I have also proven myself as a real team player at school as a player of various school sports teams where I value every member of the team to help us succeed.
I am a quick learner and keen to get into employment so that I can start taking more responsibility for myself.
Thank you in advance for your consideration, and I hope to hear from you soon with the view to arranging an interview.
Yours sincerely,
Your Name
Address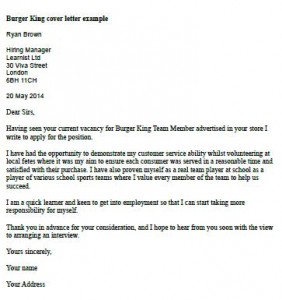 View more cover letter examples and cover letter templates.