Use this letter example if you need to resign from your job due to a career change.
Career change Resignation Letter
Mrs Jessica Thomas
1 High Street
Sometown
X1 2YZ
Mrs Alison Hope
Human Resourcing Director
ABC Solutions
147 The Street
Anytown
Z9 8YX
(Date)
Dear [Insert Name]
I regret to inform you that I am resigning from my position as retail assistant for the [company]. My last day at work will be December 15, 2021.
I will be working for a local non-profit organisation and look forward to the new direction of my career, even though I will miss my job and [company].
Thank you for the support and the opportunities that you have provided to me during the last several years. I have enjoyed my job with the company.
I wish you and the company all the best. i do hope our paths cross again in the future.
Your sincerely.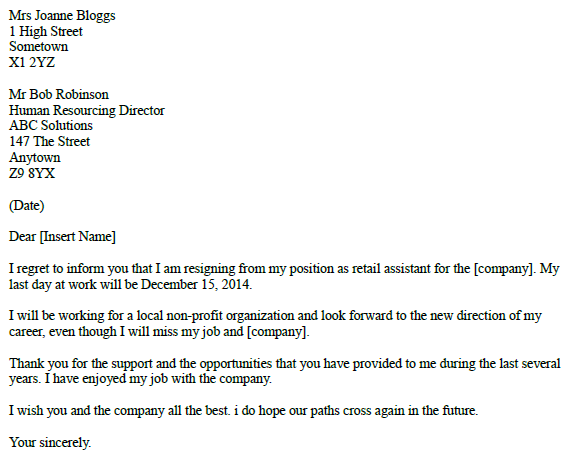 Another Example could be:
Your Name
Your Address
Date
Name
Title
Company
Address
Dear Mr/Ms Last Name,
I write to notify you of my resignation from the position of Customer Assistant Supervisor for the NAME OF COMPANY, effective DATE.
The 7 years with the company have been positive and I am very grateful for all the opportunities that you have provided for me to learn, develop and improve my skills.
Rest assured, my commitment to the business remains and you have my full support. If I can be of any help during this transition, please let me know.
Yours faithfully,
Your Name
Your Phone Number
Your Email