Cover letter example for a catering staff job. You can amend this letter as suitable and apply for latest job vacancies.

– Catering Porter cover letter example
– Catering Manager cover letter example
– Catering Supervisor cover letter example
– Catering Assistant cover letter example
– Catering service personnel cover letter example
– Catering engineer CV Example
– Catering supervisor CV Example
– Catering assistant CV Example
Jessica Carter
Hiring Manager
Learnist Ltd
30 Viva Street
London
6BH 11CH
20 May 2014
Dear Sirs
Further to seeing your advertisement for catering staff in the local newspaper I would be pleased if you could consider my application. Although you are advertising two specific vacancies, one of which is for someone to work in the bar area and the other is in the restaurant, I have some experience in both positions, so would be happy in whichever position you feel most appropriate.
I have been working on a contract basis for a well-respected catering agency for over two years which has given me a considerable amount of experience in a variety of locations and events.
I would love to work for your organisation which has an extremely good reputation. I understand that although the vacancies are in one location, that there may be the need to provide holiday and sickness cover at your other restaurants.
I do have food hygiene certificate level 2 and CRB (criminal record) certificate, and I have enclosed copies of them with this application. I also have transport and a clean driving licence. The agency is willing to provide a reference confirming that I am always punctual and reliable.
I am available to attend an interview at any time suitable to you. I hope to hear from you shortly.
Yours faithfully
Your Name
Address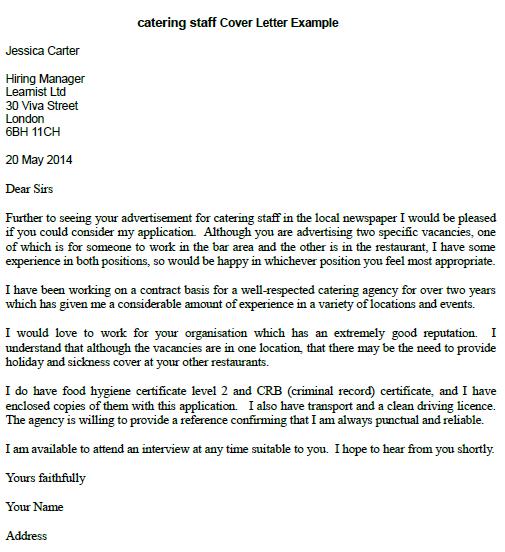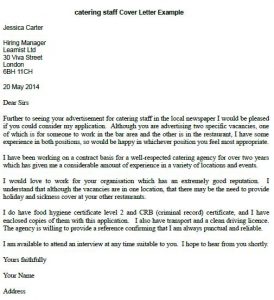 View more cover letter examples and cover letter templates.