Civil Engineer CV example and template. Amend as suitable and use it for yourself.
If you are looking for Civil Engineer job vacancies in the UK, you can find them on the job sites online including Reed, Totaljobs, Cv-library.co.uk and Jobsite. Simply visit them and start searching for latest jobs. Apply for the ones that are near you or you are prepared to relocate for.
– If you are in need of a covering letter for your CV then click here to view latest Cover Letter examples.
– Civil Engineer cover letter example.
– Civil Engineer salary and average pay rates.
– You can take a look at our Typical Interview Questions and Answers.
Here is Civil Engineer CV Template :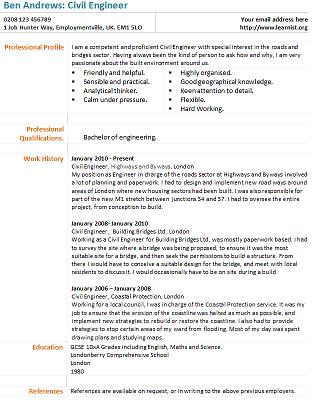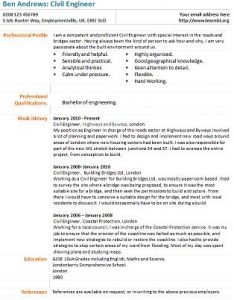 Ben Andrews: Civil Engineer
0208 123 4567891 Job Hunter Way, Employmentville, UK. EM1 5LO

Your email address here

https://www.learnist.org

Professional Profile

I am a competent and proficient Civil Engineer with special interest

in the roads and bridges sector. Having always been the kind of person to ask how and why, I am very passionate about the built environment around us.

Friendly and helpful.
Sensible and practical.
Analytical thinker.
Calm under pressure.

Highly organised.
Good geographical knowledge.
Keen attention to detail.
Flexible.
Hard Working.

Professional Qualifications.

Bachelor of engineering.

Work History

January 2010 – Present

Civil Engineer

, Highways and Byways,

London

My position as Engineer in charge of the roads sector at Highways and Byways involved a lot of planning and paperwork. I had to design and implement new road ways around areas of London where new housing sectors had been built. I was also responsible for part of the new M1 stretch between junctions 34 and 37. I had to oversee the entire project, from conception to build.

January 2008- January 2010

Civil Engineer, Building Bridges Ltd, London

Working as a Civil Engineer for Building Bridges Ltd, was mostly paperwork based. I had to survey the site where a bridge was being proposed, to ensure it was the most suitable site for a bridge, and then seek the permissions to build a structure. From there I would have to conceive a suitable design for the bridge, and meet with local residents to discuss it. I would occasionally have to be on site during a build.

January 2006 – January 2008

Civil Engineer, Coastal Protection, London

Working for a local council, I was in charge of the Coastal Protection service. It was my job to ensure that the erosion of the coastline was halted as much as possible, and implement new strategies to rebuild or restore the coastline. I also had to provide strategies to stop certain areas of my ward from flooding. Most of my day was spent drawing plans and studying maps.

Education

GCSE

10xA Grades including English, Maths and Science.

Londonberry Comprehensive School

London

1980

References

References are available on request, or in writing to the above previous employers.
Click here to download Civil Engineer CV example in Word, Doc format and start working on it.
Copyright Notice
These CV templates are the copyright of Learnist.org, 2012. Jobseekers may use these CV examples for their own personal use to help them create their own CVs. You are most welcome to link to https://www.learnist.org/civil-engineer-cv-example/. However they may not be distributed or made available on other websites without our permission. If you have any question then contact us!