Clerical Officer CV example and template. Amend as suitable and start using it for your job applications. The example CV will help you to create your own CV.

Clerical Officer job vacancies can be found on the major job sites online including reed, cv-library.co.uk and totaljobs.
Visit those job boards and start searching for current vacancies.
A good CV should always be with a well written covering letter and if you require to write a Clerical Officer cover letter then view the example.
If you have any questions about your career then visit our job seekers forums.
– Clerical Officer CV template
– Clerical Officer cover letter example
– Clerical Officer job application letter
– Clerical Officer salary – average pay rates.
Here is your Clerical Officer CV template: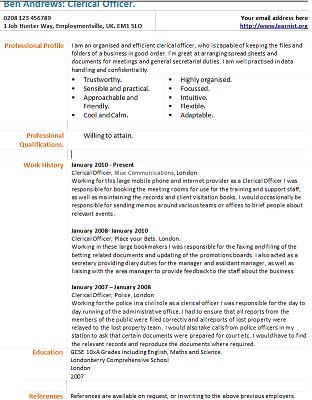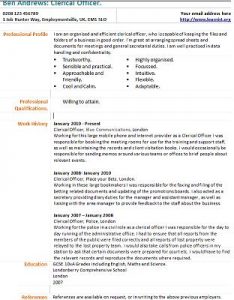 Ben Andrews: Clerical Officer.
0208 123 456789

1 Job Hunter Way, Employmentville, UK. EM1 5LO

Your email address here

Professional Profile

I am an organised and efficient clerical officer, who is capable of keeping the files and folders of a business in good order. I'm great at arranging spread sheets and documents for meetings and general secretarial duties. I am well practised in data handling and confidentiality.

Trustworthy.
Sensible and practical.
Approachable and Friendly.
Cool and Calm.

Highly organised.
Focussed.
Intuitive.
Flexible.
Adaptable.

Professional Qualifications.

Willing to attain.

Work History

January 2010 – Present

Clerical Officer, Blue Communications, London

Working for this large mobile phone and internet provider as a Clerical Officer I was responsible for booking the meeting rooms for use for the training and support staff, as well as maintaining the records and client visitation books. I would occasionally be responsible for sending memos around various teams or offices to brief people about relevant events.

January 2008- January 2010

Clerical Officer, Place your Bets, London.

Working in these large bookmakers I was responsible for the faxing and filing of the betting related documents and updating of the promotions boards. I also acted as a secretary providing diary duties for the manager and assistant manager, as well as liaising with the area manager to provide feedback to the staff about the business.

January 2007 – January 2008

Clerical Officer, Police, London

Working for the police in a civil role as a clerical officer I was responsible for the day to day running of the administrative office. I had to ensure that all reports from the members of the public were filed correctly and all reports of lost property were relayed to the lost property team. I would also take calls from police officers in my station to ask that certain documents were prepared for court etc. I would have to find the relevant records and reproduce the documents where required.

Education

GCSE

10xA Grades including English, Maths and Science.

Londonberry Comprehensive School

London

2007

References

References are available on request, or in writing to the above previous employers.
These CV templates are the copyright of Learnist.org, 2012. Jobseekers may use these CV examples for their own personal use to help them create their own CVs. You are most welcome to link to https://www.learnist.org/clerical-officer-cv-example/. However they may not be distributed or made available on other websites without our permission. If you have any question then contact us!