Cover letter example for a Concierge job in the UK. Use this job letter example for free after amending it as suitable. The service industry is getting more competitive due to more and more people are into the customer service arena. This is one of the most dynamic and highly competitive markets. Getting the attention of a company in need of customer service is a stiff competition. This is the reason that cover letters for customer service must be carefully thought of,well crafted and should be emphatic. Depending on field of customer service you are applying for, it is best to know and understand the requirements and profile of the company. Then match your customer service skills and experiences. Highlight your best abilities and convince that you are fitted for the company.
Basically, cover letters for customer service indicate which field of customer service you are experienced in. To start writing your best and most convincing letter,make sure you have the right format from the beginning to the end. The first details include your name,address,zip code,contact details such as telephone number, mobile number, and email address and the date of your application. The body of cover letters for customer service normally begins with the opening salutation which is the name of the addressee if specified or the authorised person. Don't ever misspell the name. This will definitely give them the impression that you have not given your letter a good research and thought.
Another important note about the contents of the cover letters for Concierge is that they should be an effective introduction of yourself. This is where you can sell yourself and lead the readers to the other documents that will further give them a broader perspective of yourself. Besides the introduction,put in the cover letter your best skills that match their requirements. Make sure that your resume can validate and vouch for what you have written in the cover letters for Concierge. Other than the skills, it would be good to add some experience on the field of customer service that the company is into. The idea is to convince your reader that you are in a better position to provide them the kind of service they need.
Concierge Covering Letter Example
Address Line 1
Address Line 2
Address Line 3
Address Line 4
Address Line 5
7th April 2020
Dear Sir / Madam
I am writing to you with regards to the recent position for Concierge that I saw advertised on learnist.org.
I am currently working as a Reservations Team Leader at (insert company) where I have spent the past 2 years looking after our elite customer booking programme. I am passionate about service I provide to these special customers and would love to transfer these skills to a face to face role.
I have spent the past 4 years working in the industry and am looking to broaden my horizons and my skill-set. It has been a long term career aspiration to work for a major hotel chain, as a member of the Concierge team I can combine my love of service and hospitality with my passion for travel and tourism.
Please find attached my current CV, which further details my experience along with my technical skills and qualifications and why I feel I would make an excellent ambassador for you. I also come with a good number of contacts for securing exclusive ticket deals and packages for guests.
I have the skills and experience required to competently take on this role and I am confident that I would work to exceed your expectations.
I very much look forward to hearing from you and thank you for considering my application.
Yours Sincerely,
Your Name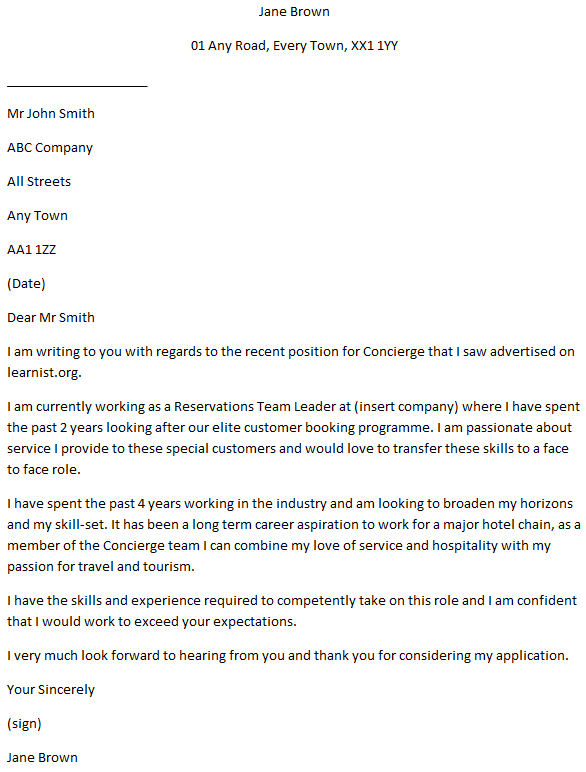 Good luck with your job applications. Let us know if you need help with writing your letter.