Cover letter example for a Customer Service Assistant job. Amend as suitable and start applying for job vacancies.
Customer Service Assistant Cover Letter
Dear Sirs
I would like to apply for the role as Customer Service Assistant, as advertised recently.
I have worked in various administration roles very successfully and would like to move into customer services. I believe I have all the attributes required. I enjoy working with people and helping them with their needs and problems. Part of my current role as an admin assistant involves processing customer complaints, liaising with the customer, responding to their communications and internally ensuring that all stages of the process were recorded and responded to.
I like to use my initiative to help solve problems and I want to move into customer services because it is such a broad industry. I believe it will enable me to develop my career, making the most of opportunities presented.
I am happy to work hours to suit as I appreciate that being in a customer services role may require working outside of normal hours.
I am available for interview at your convenience and references are available on request.
I attach my CV and look forward to hearing from you as appropriate.
Yours faithfully
Cover Letter for Customer Service Assistant
Dear Recruitment Manager,
Position of Customer Services Assistant – Ref: 123456
I have included my CV for your consideration with reference to your current vacancy of Customer Service Assistant. Within my previous employment, I spent two years working in a customer services department at a building society. This involved answering the telephone to customers and resolving their queries and problems. There was also some email work too. Some customers were easier to deal with than others but my training and natural tact and politeness helped me to successfully help all of them.
I was required to use a computer database to access customer details and also did a selection of company specific software training courses while in the job. I was quick to learn and therefore feel confident in dealing with other IT systems.
During my two years of work, I studied for an NVQ in customer services and have now completed level 2. I am planning to progress to level 3 when the new course starts.
Many thanks for your time in considering my application, and I hope to hear back from you soon.
Yours sincerely,
Applicant Name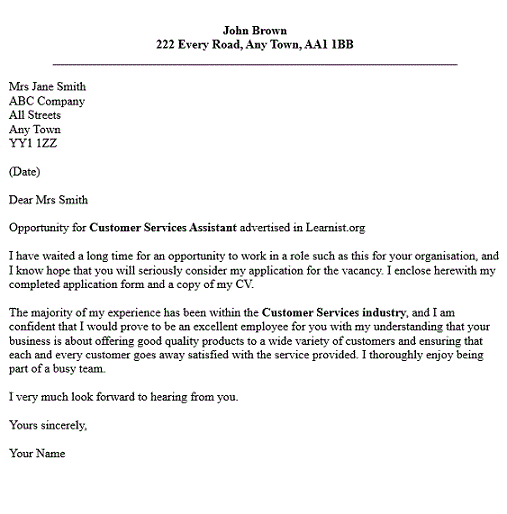 Good luck.