Cover letter example for a Data Entry Clerk. Amend as suitable and use it for your job applications.

– Data Entry Clerk CV Example
– Data Entry Clerk interview
– Data Entry Clerk interview
– Data Entry Clerk CV Template
– Example CV of a Data Entry Clerk
Dear Sirs
I should like to apply for the position of Data Entry Clerk, as recently advertised. I am proficient with data entry and have worked in a number of administrative roles throughout my career, from PA to a senior manager, to accounts assistant including order entry book-keeping, for example.
I have good attention to detail and am Microsoft Office qualified. I have worked in a number of industry sectors: retail, public sector, and transport. I like to work as part of a team and most usually tend to work closely with the accounts department, as you would expect.
I am now looking for a new role as I have recently relocated to the area with my family and I am available for interview at your convenience. References are available on request.
I attach my CV and look forward to hearing from you as appropriate.
Yours faithfully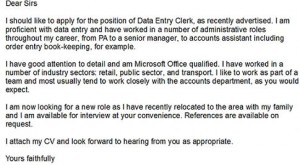 View more cover letter examples?