Cover letter example for a delivery driver job. You can amend this letter as suitable and apply for latest job vacancies.
If you are interested in driving and like travelling to different destinations every day/week then being a Delivery Van Driver could be the right job for you. You could be responsible for delivering a number of different products from shopping, parcels, appliances etc.
Although there are not any specific qualifications you need for this role, you will need to be a good driver with a good driving record and clean licence and have a good general standard of English and Maths and feel comfortable in talking to people.
Cover Letter: Delivery Driver
Joshua Kinder
Hiring Manager
Learnist Ltd
30 Viva Street
London
6BH 11CH
20 May 2020
Dear Sirs
Further to your advertisement in the Learnist Courier for a delivery driver I would like you to consider my application.
Although I don't have any experience the advertisement does state that it isn't essential. I do have a clean driving licence, and passed my test more than five years ago. I understand that the work will involve driving a van with parcels from a local catalogue clothes company to their customers.
I do know the area reasonably well as I have lived in Colwyn Bay for the last ten years and prior to that I lived in Bangor.
I understand that the vehicle will be loaded ready for the driver in the mornings and the van is returned to the depot. It is really helpful that the route is planned in advance and that the van is loaded so that items for the last drop are the furthest from the door.
I have enclosed my CV which shows my work history, although I haven't worked for the past few years as I wanted to stay at home with the children. They are now of an age where I am able to make arrangements for them after school and in the holidays.
I am available to attend an interview at any time convenient for you and I hope to hear from you soon.
Yours faithfully
Your name
Your Address
Cover Letter: Delivery Van Driver
Dear Sir/Madam,
Application for the role of Delivery Van Driver
I have just seen your advert for a Delivery Van Driver position and I would be very keen to apply for this role.
I have a good working knowledge of many areas (could you say distance from where you live which is of course true) and enjoy driving. I believe that I am a safe driver and respect the products that I am delivering and want the customers to receive their items in excellent condition.
I am a hardworking individual who has a mature and responsible attitude towards my work. I am flexible on my approach to work and have no restrictions in terms of hours and I am able to make deadlines as required by the company.
I have had previous experience in (a similar role? Can you name what, who for and why you are looking to find a new role?)
I am very organised and dedicated person with excellent time management skills and I am now seeking a long term career and have enclosed my CV for you to look at my experience in detail.
If you have any questions please do not hesitate to contact me and I will be happy to answer any questions you may have.
I look forward to hearing from you.
Yours sincerely
NAME SURNAME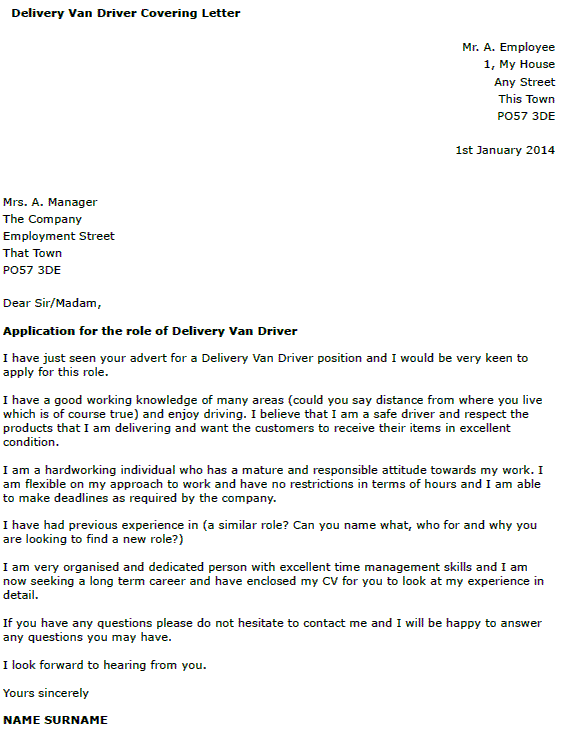 Delivery Driver Cover Letter Example
Dear Mr Lancaster,
I am applying in response to your advertisement published in the Hull Observer with regards to the Van Driver position for your offices at Beverley. I am interested in working in this position with your company and believe that my employment and education meets the required criteria for this position.
My work experience includes responsibility for management of all operations on the BuildIt Beverley branch site. I am involved in reviewing safety and emergency procedures, operating one of several fork lift trucks, checking deliveries in and out of the site and stock control within the office systems.
I particularly enjoy the delivery side of my current occupation and know I would be conscientious and happy to perform this role as my main job. I have a full clean driving licence, plus a fork lift operator's licence, which I have held for eight years.
I would appreciate your consideration for this job opening as I believe that my skills are a suitable match for the job's requirements. I appreciate your taking the time to review my credentials. Please feel free to get in touch with me for any clarifications that may be required.
Yours sincerely,