There is no right or wrong answer to questions like "What are the most difficult decisions to make?" or "Describe a difficult work situation / project and how you overcame it." These are behavioral interview questions designed to discover how you handled certain situations. The logic behind these type of questions is that how you behaved in the past is a predictor of what you will do in the future.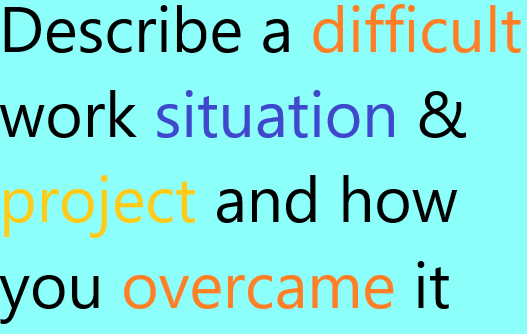 Give concrete examples of difficult situations that actually happened at work. Then discuss what you did to solve the problem. Keep your answers positive ("Even though it was difficult when Jane Doe quit without notice, we were able to rearrange the department workload to cover the position until a replacement was hired.") and be specific. Itemize what you did and how you did it.
The best way to prepare for questions where you will need to recall events and actions, is to refresh your memory and consider some special situations you have dealt with or projects you have worked on. You can use them to help frame responses. Prepare stories that illustrate times when you have successfully solved a difficult situation.
Example Answer for "Describe a difficult work situation / project and how you overcame it" interview Question
I once worked for a heating company in customer services, and one day with ten minutes before the office closed on a Friday I received a call from an elderly client to say that her heating engineer hadn't turned up to fix her boiler. Knowing that the engineers were finished for the day, and her engineer refused to attend, and this elderly lady would be without heating over a cold weekend, I asked my manager if it would be acceptable for me to attend the appointment myself with another heating engineer who I gave a lift home to each night and fix it for her out of office hours and without expecting paying for it. My manager agreed and we went in our own time and fixed the boiler, so she wasn't left without heating all weekend.
Try and make sure in your answers that it really comes through that the problem you were facing was quite difficult, especially inconvenient to your company or client (rather than yourself) and that your determination to make it right was what rectified it in the end.