Another describe a time question for you. How would you answer "Describe a time when your workload was heavy and how you handled it" interview question?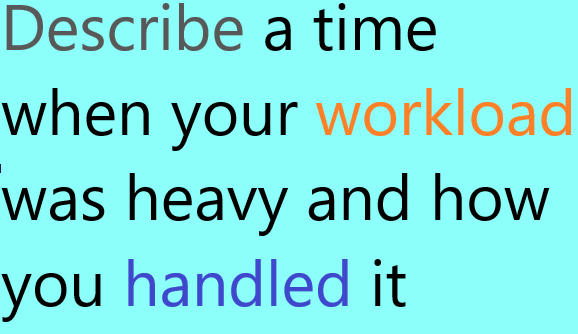 Interviewers love asking questions like this. They want to find out how you deal with stress and pressure. They are looking to check how you approach difficult situations and how you overcome them.
Situation – it's important to describe the situation in as much detail as possible. Paint the picture for them.
Action – tell them what actions you took. Most interviewers will want to see that you communicated with your boss and/or colleagues during this challenging period.
What they don't want to see is that you continually promised to deliver against a deadline and kept missing it. So it's important to get across that you sat down with your boss, team members and/or colleagues and went through what had to be achieved. You reviewed the deadlines to see whether any of the work could be re-prioritised.
It's also important to say that you kept everyone informed during the period with updates on progress. It shows that you take responsibility. That you care and that you are not frightened to ask for help when you need to.
In all positions at times the workload is so heavy you cannot think straight and it's a struggle just to keep on top but it rarely lasts and it's about how you manage it at the time.
Think of when this has happened and how you coped and explain this at your interview demonstrating a positive outlook.
Ways of coping when the pressure is really on:
Make a list and prioritise what needs to come first – if you can't then you need to just work through the list one by one.
Is there anyone else that can help you or you can delegate to?
Speak to your immediate manager and see if there is anything you can do.
Take short breaks away from your desk just to collect your thoughts.
Write everything down so you do not forget what has been done and what still needs to be done.
Keep calm and try to work at the normal pace you would and work through all the tasks that are outstanding until the workload starts easing off.
If you have been struggling, maybe once things calm down you could try a time management course, this may give you ways of managing your time effectively that you could put into practice the next time deadlines are fast and furious.
Example Answer
When I worked at McFarlane's, the restaurant was situated in a quiet part of London and we didn't get much daytime trade, so the staffing level was always very low during the day. One day however a coach had broken down nearby full of tourists, who after finding out their breakdown service wouldn't be with them for an hour decided to eat at our restaurant whilst they waited. We had to run a service counter with just one staff member, whilst using the other two staff members to cook the food, it was rather difficult, but we worked so well as a team that we managed. We served 120 customers in 40 minutes, which is more than we would normally serve in 4 hours during the day, all because I could rely on my team members and we communicated so well.