If you are looking to be an Electrician and in the process of updating your personal profile within your CV then you need to look at what specific skills you have gained already and what you are interested in learning and which way you want your career as an electrician to go.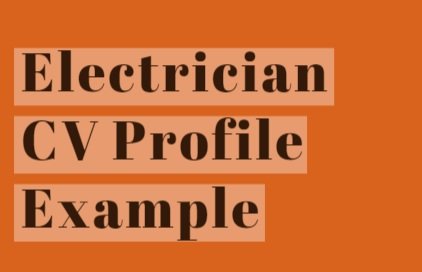 An employer will be interested to know what type of companies you have worked with before or whether you have worked more with customers in their homes rather than businesses.
They will be looking to see what qualifications you have and how you keep your skills up to date since it is a technical role and one which relies on being up to date with skills and experiences.
CV Profile Example for Electrician
I am a technically minded person who has always enjoyed working in hands on roles. I decided at an early age that I wanted to train as an Electrician and am pleased that I have remained dedicated to my role and like to keep my skills up to date which is very important in my career choice as I need to be properly regulated and insured to be able to deal with customers and provide electrical advice and solutions.
I have excellent communication skills and spend a great deal of my time with customers so like to ensure that I adapt my communication techniques as necessary. I am able to explain electrical processes in a non technical manner which is very important to my customers.
I am a very motivated and enthusiastic worker, I like to do as many calls and work as thoroughly as I am able to every day and appreciate that in some businesses the work cannot be done in normal working hours and this is just the nature of the business.  I am keen and dedicated and looking to further my career through qualifications and experience.