Argos job application – cover letter example can be used for your Argos job applications. The company is accepting both online and printed job applications.
Argos Cover Letter
Dear Sir / Madam
Store Colleague advertised on Learnist.org
Please find enclosed my completed application form in response to the Store Colleague position I saw advertised in the Birmingham Union Street store.
I know that Argos is committed to delivering excellent customer service for every customer as well as ensuring each and every customer receives their goods in the quickest possible time. With the organisational skills I have developed throughout my time in administration, and the passion I have for delivering excellent customer service I am sure I would be a valuable member to the team.
I hope that you are able to consider me favourably for this Store Colleague position, and look forward to hearing from you soon.
Yours sincerely,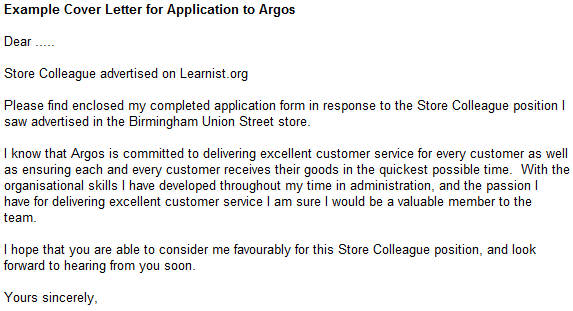 Motivating the potential employer who will read a cover letter remains a big challenge for job applicants. Great cover letters are made by skilled people who know the characteristics of a business letter. There are certainly a lot of resources and tools that will help you go about writing a good letter but to personalise it is another story. Cover letters are as varied as the purposes of the writer. Depending on what your intention is,you can choose which one suits you best. Great cover letters should include what you need,what you can do and how you can be effective before anything else. Don't ever submit a haphazard letter because you will not have the chance to be called for an interview.
Cover letters should be interesting and should be able to catch the attention of the reader. This entails the applicant to have writing potentials or skills. To create great cover letters,you have to be aware of the format and supply the right information. The reader's interest depends on how creative and interesting your cover letter is. So,it would be helpful if you could organise your thoughts well and write them cohesively. A little background check of the company,or if possible of the point person or addressee of the letter would definitely boost your writing for great cover letters. If you are applying for a job in a certain company,know the requirements by heart and check your own qualifications specific to the requirements.
The information you find in the cover letter is quite standard but the style of writing makes a big difference. While there are many samples and templates of great cover letters,your letter must be able to reveal your personality,as closely relevant to the job requirements as possible. Make sure you have the right skills and aptitude,which your resume can actually vouch for. Brief but accurate,simple but informative,catchy but not superfluous,are some characteristics that you can inject in your cover letter. Don't forget to check the format,spelling,especially the name of the addressee,and grammar. These are the basic elements of good cover letters.