Cover letter example for a Finance Admin Assistant job. You can amend this covering letter sample as suitable and apply for job vacancies.
Finance Admin Assistant Cover Letter Example
Jessica Brown
Hiring Manager
Learnist Ltd
130 Viva Street
London
6BH 11CH
12 July 2020
Dear HR,
I should like to apply for the role of Finance Admin Assistant as advertised recently.
I currently work for a utilities provider where I assist the Deputy Director with financial and administrative support including processing all income and expenditure, inputting transactions to Quickbooks accounting system and assisting the Director in recruitment; I am also responsible for general house-keeping duties and maintaining office supplies.
As part of my role I am trusted with writing cheques and sending out payments, paying cheques into the bank, managing the petty cash and producing monthly spreadsheets, reconciling directors' credit card accounts, reconciling bank statements and monitoring the administration budget.
I assist the director in recruitment and updating policies and procedures and ensuring that the company complies with Health and Safety Regulations. I also look after the getting quotes for building repairs, sourcing contractors, and generally co-ordinating the maintenance and repairs of the buildings.
I am well organised and able to manage several different projects simultaneously. I would like to work for a smaller, family run business, where I can really be considered an essential part of the team and develop into a managerial role as required, hence the reason for applying for this role.
I enclose my CV and am available for interview at your convenience. References are available on request and I very much look forward to hearing from you as appropriate.
Yours faithfully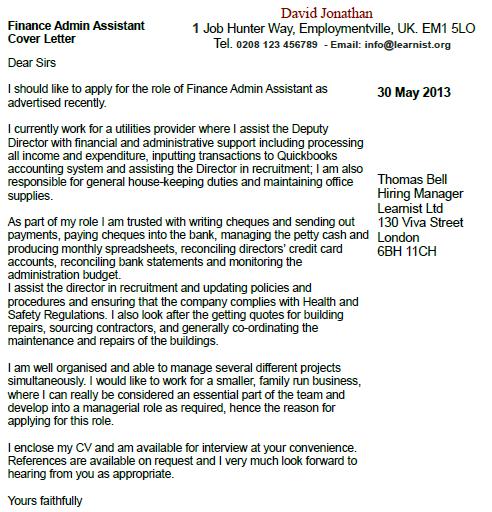 Finance Admin Assistant Cover Letter
Dear Ms Timpson,
I am submitting my CV for consideration towards the Administrative Assistant position at Financial Web Ltd as advertised in the Times Daily. My previous experience as an administrative assistant supporting senior staff within the financial industry matches your position requirements.
I am very interested in working for a company selected as one of the UK's Top 100 Employers and named one of Yorkshire's Top 20 Employers. I am committed to working in an organisation where people are the priority.
As my CV demonstrates, my six years of administrative experience combined with my exceptional computer skills and financial market knowledge make me an ideal candidate for the Administrative Assistant supporting the Manager of Finance.
Under my current employment I use Microsoft Excel to analyze financial reports and build PowerPoint presentations on deadline. I am also a competent Sage package user. My organisational skills are outstanding, and I regularly plan and schedule meetings, respond to enquiries, and manage communications for senior staff and managers. I also maintain a sophisticated filing system containing thousands of confidential financial records and have never lost or confused this information.
I would welcome the opportunity to further discuss this position with you and I look forward to a response at your earliest convenience.
Yours sincerely,