Flight Attendant CV example and template. Amend as suitable and create your own CV in seconds. Flight Attendant vacancies can be found on the job sites online and on the Airlines careers pages.

You can try Ryanair, EasyJet, British Airways etc job sites to search the current Flight Attendant or air crew job vacancies to apply.
– If you are interested in Airport jobs then visit our job forum to apply for the latest jobs.
– Once you have done your CV then it's time to think about writing a covering letter, click here to view examples of cover letters.
Here is the Flight Attendant CV Template: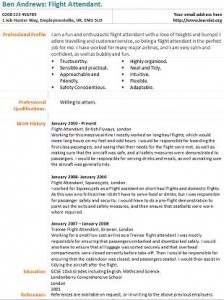 Ben Andrews: Flight Attendant.
0208 123 456789

1 Job Hunter Way, Employmentville, UK. EM1 5LO

Your email address here

https://www.learnist.org

Professional Profile

I am a fun and enthusiastic flight attendant with a love of heights and bumps! I adore travelling and customer service, so being a flight attendant is the perfect job for me. I have worked for many major airlines, and I am very calm and confident, as well as bubbly and fun.

Trustworthy.
Sensible and practical.
Approachable and Friendly.
Safety Conscientious.

Highly organised.
Neat and Tidy.
Intuitive.
Flexible.
Adaptable.

Professional Qualifications.

Willing to attain.

Work History

January 2010 – Present

Flight Attendant, British Flyways, London

Working for this massive airline I mostly worked on long haul flights, which would mean long hours on my feet and odd hours. I would be responsible for boarding the first class passengers, and seeing that their needs for the flight were met, as well as making sure that the aircraft was safe, and all safety measures were demonstrated to passengers. I would be responsible for serving drinks and meals, as well as making sure the aircraft was generally tidy.

January 2008- January 2010

Flight Attendant, Squeezyjets, London.

I worked for Squeezyjets as a Flight assistant on short haul flights and domestic flights. As this was a no frills airline I didn't have to serve food or drinks, but I was responsible for passenger safety and security. I would have to do a pre-flight demonstration to point out the exits and safety measures, and then ensure that seatbelts were worn where required.

January 2007 – January 2008

Trainee Flight Attendant, Brianair, London

Working for a small low cost airline as a Trainee flight attendant I was mostly responsible for ensuring that passengers embarked and disembarked safely. I would also have to ensure that all luggage was sorted securely and that overhead compartments were closed correctly before take-off. Then I would be responsible for ensuring that the cabin door was closed, and passengers seated. I would then assist in tidying the aircraft after the flight.

Education

GCSE

10xA Grades including English, Maths and Science.

Londonberry Comprehensive School

London

2001

References

References are available on request, or in writing to the above previous employers.
Copyright Notice:
This CV Example cannot be published on any other site without prior permission however you are more than welcome to link to this page.