Use this CV example if you are going to apply for an IT Helpdesk position. Writing a CV is an important job so take this stage seriously. Don't forget to amend this example as suitable before using it for your job applications.
An IT Helpdesk person will do following duties:
1st & 2nd Tier Internal Support.
Client imaging and installation
Network cabling and troubleshooting
Good understanding of IT Technologies
MS Windows
MS Server
User creation and maintenance using Active Directory
Internal IT induction and training
Backup monitoring
Printer support
Bug reporting
Incident escalation
TCP/IP Networks
Network Cabling
Ability to work on own initiative
Ability to carry out tasks independently.
Ability to coordinate amongst other staff
Experience in the following would be beneficial:
MS SQL / T-SQL
Active Directory
Microsoft Exchange
Powershell Scripting
ITIL V3 Framework
You will also be expected to carry out tasks that include Helpdesk Support, Custom Application Support, System Imaging, Client PC/Laptop and Workspace Setup, Backup Solutions, Network Cabling.
Helpdesk CV Example
[Type the date]
[Type your name]
[Type your phone number]
[Type your e-mail]
[Type your address]
[Type your website]
Personal Summary
Confident, patient and experienced Helpdesk Support Worker familiar with a number of different computer systems and software within a call-center environment. Excellent interpersonal skills combined with an analytical and systematic approach to problems.
Work Experience
IT Helpdesk Support – Jan-09 – Present
Computer Inc. | Newcastle
Receive incoming calls on a one-to-one basis to identify, diagnose and resolve Level 1 problems for users of the main computer systems, printers and PC hardware. Assist Network Technicians to install local area network cabling systems.
Duties:
• Diagnose and resolve Level 1 software and hardware issues over the telephone
• Accurately enter information into a database for future reference
• Assist in the creation of a Frequently Asked Questions (FAQs) report
Key Skills
• Passionate about customer service with excellent interpersonal skills
• Excellent knowledge of computer software and hardware
• Confident and experienced in dealing with difficult situations
Education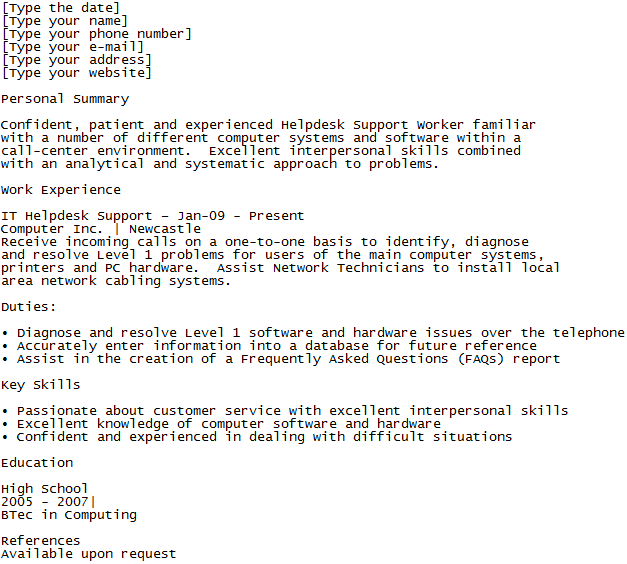 High School
2005 – 2007|
BTec in Computing
References
Available upon request
The role involves dealing with 1st and 2nd line support incidents from our clients involving desktop, tablet and mobile devices, VoIP telephone systems and application software as well as network connectivity and related server and cloud service issues.
Good verbal and written communication skills are essential as this role represents the face of the company.