The internet has changed the way businesses operate and has created new opportunities for growth and expansion. As the world becomes more digitized, the way businesses interact with customers is being reshaped. Consumers also expect more from the brands they purchase from, which has created new channels for marketing and sales.
So, how can businesses be reshaped to meet the demands of the digital age? Digital transformation is the key.
What is digital transformation?
To remain relevant and competitive, businesses must embrace digital transformation. Digital transformation is the process of integrating digital technologies into all areas of a business to create new processes, improve customer experience and drive growth.
A successful digital transformation requires a comprehensive strategy that takes into account the people, processes and technology involved. This transformation will allow businesses to meet the demands of the digital consumer and stay ahead of the competition.
All aspects of business are embedded with innovative technologies, from day-to-day operations to tactical decision making. Not only does this transformation involve the change of instruments from analog to digital but also rethinking how a company should work as well as shifting culture.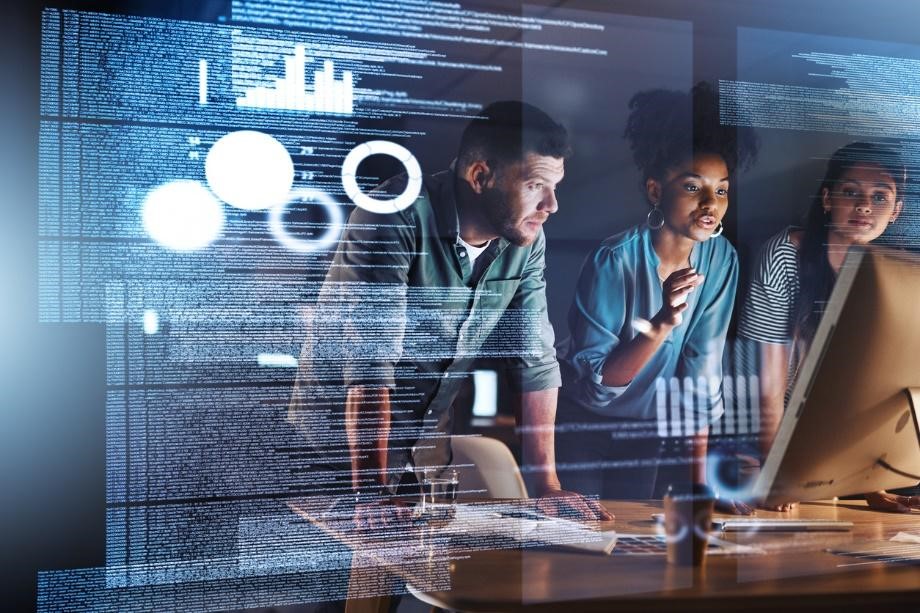 Key areas of digital transformation
Business success involves a great deal of effort and coordination, more than you may appreciate. The early stages of digital transformation are important to create the right foundation as well as to secure the right team. This requires the integration of all traditional functions of business – sales, marketing, customer service and operations.
Some areas to focus on when embarking on a digital transformation include:
IT infrastructure
One of the biggest challenges businesses face is collecting and combining data from various systems in order to provide a unified view of consumer behavior. Making use of technology platforms and tools is an essential aspect of meeting these challenges.
These platforms enable businesses to centralize information and automate processes, which can help to improve performance, drive business efficiency and reduce costs.
IT infrastructure is vital for digital transformation; it allows businesses to collect and analyze data in real-time and crunch that data at the speed of light. This means greater efficiency in the execution of tasks, as well as new insights that can be used to optimize operational systems.
To achieve these results and more, software engineers and architects are required since they have the experience and competence to deliver and maintain the right infrastructure for their organizations. This makes the future of software engineering one of the most promising career paths in digital transformation, and completing a program at Baylor University can help prepare you for this growing industry. Software engineering is a multidisciplinary field that incorporates practices from disciplines such as computing, mathematics and architecture, as well as software development and computer science.
Big data and its applications
The digital world has created immense volumes of data, which traditional storage systems are unable to handle. This has led to the development of software programs that can save, organize and analyze data of all kinds – from simple spreadsheets to photos and videos.
Data analysts use these tools to make it easier for businesses to collect insights about their customers, as well as provide a better user experience that can help them gain a competitive advantage.
Big data technologies are fundamental to digital transformation, and companies that make use of them can transform their business and create more value. For instance, collecting and analyzing data can help businesses gain a competitive advantage, streamline operations and reduce costs.
Core operations
New technology is not only changing how businesses work in the digital era; it is also improving customer deliverables, customer support operations and customer experience.
The combination of IT with digital technologies can transform how businesses are led and managed. Centralizing information will allow businesses to act more efficiently while enabling them to make better decisions that will result in reduced costs and increased revenues.
Digital technology can also bring about fundamental changes in how business is led and managed. This will consequently have a positive impact on the core operations of the organization.
Experience
The digital age is about creating a better customer experience. To do this, businesses must transform the way their products and services are communicated and delivered. Creating value from the point of view of the customer is becoming increasingly important, and companies that rise to this challenge are more likely to succeed in the long term.
Digital technologies are providing customers with access to a wider range of products while making it easier for them to find exactly what they want. This is leading to a shift in customer expectations and a desire for something different – an even better experience.
To meet these expectations, businesses must deliver the right customer experience and use digital technologies to enhance the service they provide and continuously improve their products.
A change from reacting to the needs of customers to anticipating them is critical for companies that wish to stay ahead of the competition.
What teams are involved in achieving digital transformation?
In traditional organizations, the IT department was responsible for the development of applications and IT infrastructure. However, in digital transformation, businesses need to integrate these systems with applications used by other departments in the business.
Here are some teams that can help in achieving digital transformation:
Software engineers – Software engineers are the people who design, develop and test new computer software, as well as implement new digital business processes. They also make all architectural decisions about the use of existing systems and software tools in order to achieve their objectives within the organization.
Data analysts – These are the professionals who analyze, maintain and apply business data to solve problems. They identify issues, recommend solutions and explore opportunities for digital transformation.
Project managers – They oversee and manage the integration of new digital applications with the business. They are also responsible for defining and identifying all digital systems, tools, processes and vendors.
Compliance and audit – These professionals are responsible for ensuring that the company adheres to all applicable laws, regulations and standards. They also ensure that all software tools used in the organization are properly designed and tested.
Chief digital officer – These are the professionals who oversee the entire digital transformation process and ensure that it enables the business to get maximum value. They also help in building new business models.
Final words
Digital transformation is a continuous process that provides significant benefits to businesses. It helps them make better decisions, respond faster to market changes, reduce costs and increase profits. It calls for a fundamental change in how an organization functions, not just in terms of technology but also in terms of culture and management.
The success of companies that achieve digital transformation depends on the right people being empowered to drive this change. Businesses need to create a culture that encourages and enables their employees to expand their knowledge. Digital technologies will continue to play an important role in this process, and companies that understand the impact these technologies will have on an organization are more likely to have a competitive advantage in the digital era.