"What motivates you?" is quite an open ended question, and is a fantastic opportunity to sell your enthusiasm! The best way to approach this question is with pointing out a mutual benefit. The best things to state here are things that suggest dedication and satisfaction, here are a few examples. Think back over your career to see if you can add a personal touch to some of these optional factors: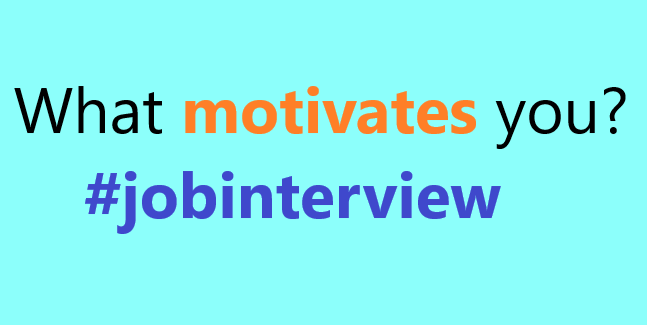 Example Answers
RESPONSIBILITY.
I get really motivated when I know I am trusted with a task or duty. It makes me feel very proud to have the responsibility, and so I am extra enthusiastic about carrying out the duty. I used to work in a bar and at the end of every shift I would cash up the tills and deliver the takings to the night safe. Knowing I was trusted with this detail made me feel more valued in my position and motivated me to work my hardest.
SATISFACTION.
I love going home at the end of the day knowing I have done my job well, and when I wake up in the morning I love knowing I am going into a job I will enjoy doing. I love to do the best that I can, and strongly believe that if I don't take care of my clients, someone else will, so it is mutually beneficial for myself and my company that I do the best job I can. I used to work in a customer service call centre and would pride myself on taking ownership of problems when people would call in frustrated and upset with the company. I would be sure to let them know my name and extension so they could come back to me if they needed to instead of getting further frustrated explaining themselves several times, and would make sure to keep in contact until their problem was resolved and they were happy. Praise from customers and superiors would make my day.
TARGETS.
Having a target to work towards really helps to motivate me. I never have a problem hitting sales targets, but I am never happy to just hit my target. I make a personal mission of exceeding my targets and seeing just how far I can exceed them. I also enjoy working in a team with a team target, where I can assist my colleagues and encourage them to help us all exceed the target. I used to work in a sales call centre. We were set a personal target of 10 sales a day each, and a team target of 500 a week. As an individual I would always exceed my target before lunch, and spent the rest of the day exceeding my target and assisting my colleagues in closing sales to reach their own targets. If some of my colleagues were struggling and I was ahead I would take a little time out to have a motivational chat with them, listen in to a few of their calls to see if I could offer any advice, and try and encourage them along.
Unless the role you are applying for is commission only, try and avoid mentioning money. Most employers won't need or want a "cash hungry" employee, even most salary based sales roles don't want people who will come across as pushy or desperate. Always place emphasis on the thing that motivates you being beneficial to the company AND the client.