This question isn't just about what you were doing in your last role, it's also about relating it to what you could be doing in your new job.
Remember the job description before answering the question.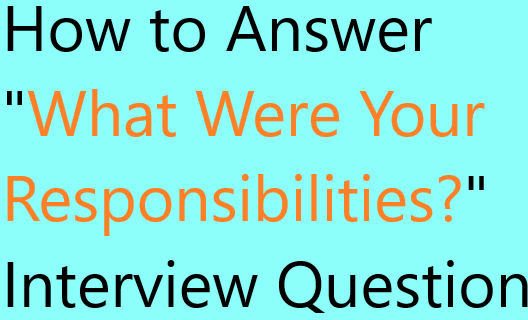 So, don't just list off all the responsibilities you have or had in your last role. Make them relevant to the position you're applying for. Think about what you're doing now and how it can relate to this new role.
Tailor your answers to address the requirements of the role. It's all about showing how you've added value in your current role and also how you can add value in the new role too.
How to Answer "What were your responsibilities?" Interview Question
Depending on what your responsibilities were in a previous or current role will depend how many to go through with an interviewer.
I would personally pick the best 3 that closely match the job that you are being interviewed for and discuss them in detail.
This will show that you have the relevant skills to do the job they are interested in you for.
It is also important to be honest about your responsibilities.
Don't set yourself up for a fall by saying that you can do something you can't because if they ask you detailed questions you won't be able to answer them and it will be very obvious you cannot do what you say thus showing your interviewer that you have embellished the truth.
This will lead them to ask what else you have not been honest about. Worst still you could get the job and not be able to do it which would not end well.
If there is a particular skill you think you would like or should have then go about learning it in the correct way first.
Don't forget that an employer will ask for your referees and will almost certainly find out if there is anything not quite right.
Don't take the risk!
Example Answer
In my last job my main responsibility was to ensure the safety of customers at all times. As a door supervisor I had to ensure that undesirables or drunken people could not enter the bar, and attend to any problems that may be occurring inside the premises. It is quite a responsibility to have to remove persons from premises, especially when they are drunk.
Good luck!