How to become a Train Driver. Intereted in becoming a Train Driver in the UK? read our full guide here!
Related: Train Driver Jobs
Job Description
Train Drivers are persons who are responsible for the carrying of passengers safely from one station to another. This could be local services or long distance journeys.  Train Drivers are generally expected to be confident, Level -headed and willing to work at short notice and long hours, and capable of remaining calm in stressful situations. The hours depend on the kind of train you are driving. Being a Train Driver is a good job for many people, but the key traits to have are a sociable personality, safety conscious, able to work alone, a good sense of humour and calm under pressure.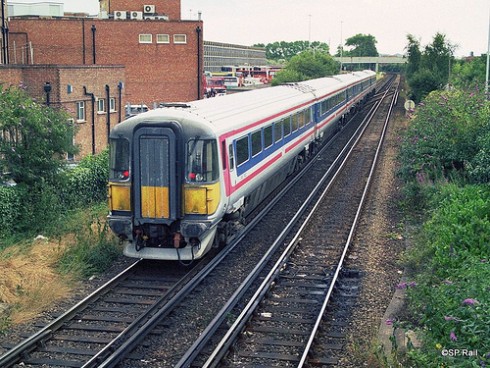 Entry Requirements
Many Train Drivers start their career by becoming a trainee Train Driver. Competition is fierce in the market for train drivers. There are no formal qualification requirements to become a trainee Train Driver, however, you will be expected to pass an entry test, then complete 12 months of training before further tests. An understanding of locomotives, service driving or engineering would certainly be an advantage for anyone considering a career in train driving. You must have a strong character as driving a train can sometimes be quite emotionally exhausting at times.
Responsibilities and Duties
Standard duties vary dependent on the type of Train driving you are driving. If you are a local Train Driver then you will be expected to know which rails you need to be on, pick up passengers at the stops on your schedule and drop them safely at their destinations. You must be aware of, and obey all signals. You will be responsible for making station calls so that passengers know which station they are at, and which is next. You will be responsible for ensuring the Train is in good working order and staff on board are working correctly. A freight train driver will often work overnight and without stops, so you will need to be able to remain alert during dark and quiet times. A subway train driver is very similar to a local train driver, although you will be working primarily underground, and often later into the night.
Working Hours
These may vary depending on the duties and job you are doing. Local Train Drivers usually work on an 8 hour shift. Subway Train Drivers can work 6-12 hour shift depending on the time of day.
Skills and Training Development
Train Drivers can expect to progress through their careers with improving skills and knowledge as well as time served. You may find yourself tasked with training up new drivers that come to work in your company. You could also consider becoming a Train Driving Instructor if you can demonstrate your impeccable driving record and ability to pass on your skills. You may wish to progress from being a driver to being a station manager or train engineer.
Average Salary
The average salary for a Private Hire Train Driver is £25,000 PA.
The average salary for a Freelance Train Driver is £45,000 PA.
photo by: SP Railways