When it comes time to hit the job boards and hunt for work, the CV is perhaps the most important thing to have in your job-seeking arsenal.
Online profiles and digital job applications may be rampant, but they're no match for a traditional, well-written CV. Whether you're writing one for the first time or updating your current CV, the importance of knowing how to create a positive first impression on a recruiter is paramount. After all, the quality of your CV is ultimately what will get you a phone call from an HR manager – or left behind in the dust.
Before you get to work on your CV, bear in mind these important details from the experts to help yours stand out from the pile of paperwork.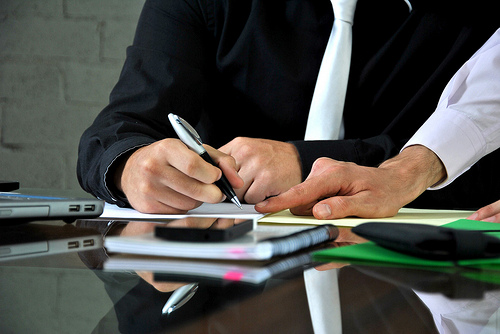 What is a CV?
CV stands for "curriculum vitae", meaning "course of life".
The term CV is often used interchangeably with a resume, but although the two documents serve the same purpose, they do differ slightly. A resume is shorter, generally no more than one to two pages, while a CV can be longer and more detailed. That said; don't take the opportunity to ramble when writing your CV. In a report penned by Mark Neilan, Director of Finlay James Associates, he points out that resumes should be tailor made to reflect your specific qualifications and experience, and steer clear of clichéd generalizations and buzzwords. "Ensure that the entire content of the CV is relevant," he writes. "The more relevant the better – a bespoke CV is always better than a generalised one."
What you can take the opportunity to do is brag about yourself. Use your CV to sell your skills, knowledge and expertise to the recruiter! Your CV should cover the following areas of interest:
Personal details and contact information. Make sure these are correct! Always include a working phone number as well as a current email address to give your recruiter the opportunity to get in touch.
Education, certifications and training. Include not just your designation, but your field of study and educational institution. If you're in an entry level position and lacking in work experience, highlight an impressive educational feat to show your skill level. For example, if you undertook a hefty dissertation that utilized various different skills, point this out on your CV. Likewise if you finished with high grades or received any tuition scholarships for academic performance, these kinds of specifics stand out to a recruiter.
Employment history and experience. Getting this information across in a pertinent, concise way is key, as this area is of prime interest to a recruiter. It's a good idea to have a couple of different versions of your CV, so you can tailor your experience exactly to the role you're applying for. If you have experience in sales and project management, construct one CV that emphasizes your skills and familiarity with each, and use them in applications accordingly.
Skills. Try to be specific here, using action verbs that describe your skills and achievements, as opposed to generic buzzwords (more on that later).
Objective or personal statement. While this isn't a mandatory part of your CV, it can help you create an impact with a potential employer if you choose include it, and write it well. Keeping it short and sweet is best practice, and it should convey who you are, what you've done and why you're right for the role in first person clearly and succinctly.
Hobbies and personal interests. These can be a great talking point in an interview, or they can scare HR managers away! Remember that while this area of your CV refers to your personal hobbies, they are still being presented in a professional setting.
The Six Second Scan
A quantitative study of thirty recruiters conducted by TheLadders revealed that on average, a recruiter will look at a CV for six seconds. You need to put together a winning CV that will be the one they remember and act on out of the hundreds they're likely to see that week.
So where to start?
Firstly, make sure the critical points are on there!
TheLadders research revealed through "gaze tracking" technology that when looking at your resume, recruiters allocate almost 80% of their time looking at the following:
Current title and place of employment
Start and end dates of your most recent position
Previous title and place of employment
Start and end dates of your previous position
It's imperative to ensure your CV encompasses all of that information in an easy-to-read fashion.
Secondly, avoid making simple mistakes. According to Monster.co.uk, the biggest mistake a candidate can make on a resume is simply "being sloppy". Forgoing the proofreading process, not paying attention to grammar and spelling, having uneven spacing, multiple font types and flip-flopping between tenses screams to a hiring manager that you're not serious about your application.
Figure . A study from The Ladders revealed via heatmap where a recruiters eye will fall when overlooking your CV
A survey from LinkedIn revealed that in 2010, these were the following most overused buzzwords on a resume:
1. Extensive experience
2. Innovative
3. Motivated
4. Results-oriented
5. Dynamic
6. Proven track record
7. Team Player
8. Fast-paced
9. Problem solver
10. Entrepreneurial
In the UK, number 3, "motivated", was the most overused word. To create a winning CV, try to steer clear of words like these that make you sound like, well, just like everyone else! Your CV should reflect your own experience and what you personally can bring to an organization, not read like a carbon copy of every other CV out there.
Lastly, once you've made sure the content is up to scratch, ironing out the presentation is the final step. Your CV should:
Be clearly printed on A4 paper and sent in an A4 envelope to avoid creasing
Utilize a clear, professional type-face such as Times New Roman or Calibri.
Use 1.5 spacing to avoid a cramped overall look and make it easy for recruiters to navigate the key points in six seconds or less.
There are plenty of professional organizations around to offer CV proofreading and editing, revamping or even a complete re-write. Remember that your CV is the best and sometimes only way to make a first impression with a recruiter – make the most of it!
Photo By: Luis mario Hernandez Aldana