How to answer "How would you describe the pace at which you work?" interview question. What would be your best answer? This is one of the most straightforward questions you can be asked in an interview. However if you type really slowly than perhaps a job as a transcriptionist or minute taker isn't for you. It's best to be as honest as possible, and explain why you work in that manner, and try and give examples where possible of how you work this way and why it's the best way for you to work. Here are some examples of how you can phrase that.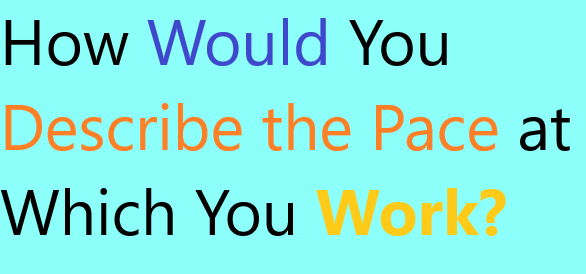 Example Answers
#1
My working pace in itself is quite steady I would say. As an accounts clerk everything tends to be in order and quite scheduled anyway so it is easy to know how much time each account will take and get all my work done in a steady and efficient manner. I can work faster where required, for example when it is coming up to April and clients require their accounts in order much faster than usual.
#2
I work very quickly if I'm honest, but then that is the best way when working in a fast food restaurant. I enjoy being on the go all the time and we need to get the food out quickly. As soon as the order is up I am straight on the grill, and have the other components assembled whilst waiting for the grilled item to cook. If I worked slowly then a customer would have a cold meal.
#3
I do work quite slowly, but being a pharmacist I think that is essential as I wouldn't want to make a mistake when checking an order has been made up correctly. I like to check the medicine is what it should be, in the correct strength, and the correct amount has been dispensed. It could be very dangerous if the wrong item or wrong strength is dispensed so I like to take my time when doing my job.
#4
I adapt my working pace to suit the situation, as a paramedic I have to. Sometimes there is an emergency and every second counts towards saving a life, so I have to work very quickly to stabilize the patient and get them to hospital. Then other times we have to take our time, for instance if a patient is suicidal and might be threatening to harm themselves, we are often the people that they will talk to about what has upset them and we have to take our time and listen and try and get them to come with us to get the help and support they need to get them through the difficulty they are facing. Other times we are sat doing nothing, if nothing is going wrong.