Cover letter example for a HR Administrator role. Amend as suitable and write your own letter to apply for jobs.
HR Administrator Cover Letter Example
Dear HR,
I should like to apply for the role as HR Administrator, as advertised recently. I have worked in human resources for the last five years, placing advertisements for vacancies, sorting through the applications, preparing the short list, booking the interviews and looking after the candidates on arrival. I also help the HR manager with the staff handbook updates and ensuring that the company website is up-to-date with HR policies and information for candidates and staff. I look after the paperwork when a member of staff leaves and liaise with accounts to check the records to ensure that the company has exercised due diligence when preparing P45s. I am responsible for the office facilities (cloakroom, water coolers and provisions for the communal kitchen) and look after the Health and Safety handbook, making sure it is kept up to date and that all incidents are recorded.
In my spare time, I look after the family and I am also a member of the County Netball team.
I am available for interview at your convenience and references are available on request.
I attach my CV and look forward to hearing from you as appropriate.
Yours faithfully
Download HR Administrator cover letter example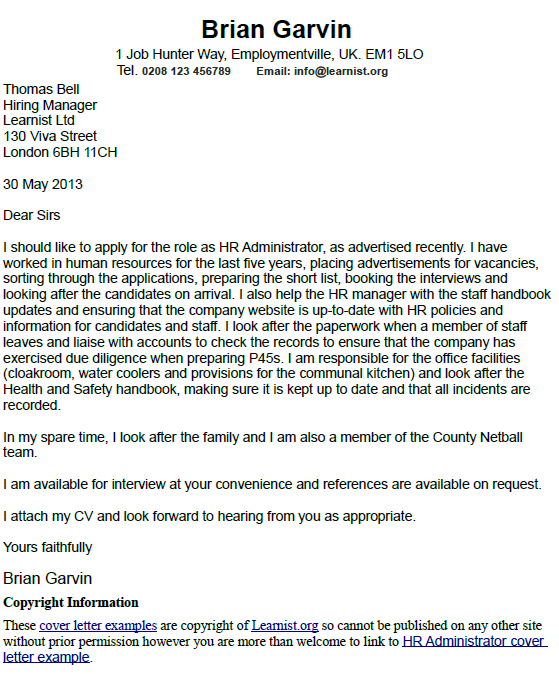 HR ADMINISTRATOR VACANCY
Date
Name (if possible)
Position
Company Name
Company Address
Dear Mrs Renwick
RE: HR ADMINISTRATOR VACANCY
Having seen your advertisement for an HR Administrator, I am writing to apply for the position and outline my skills and experience i have gained in an HR role over the last few years.
Experienced in recruitment procedures, I also ensure staff handbooks and company policies are kept up to date. I have assisted in the building of programmes that assist HR initiaitives and implemented internal processes that effectively fit in with staff objective settings which has proved very successful.
I am capable of working with staff at all levels and familiar with reporting back with various presentations to internal staff and outside organisations. I have a friendly approachable outlook yet understand the importance of confidentiality and remaining professional at all times.
I am eager to bring my enthusiasm, skills and experience to your company and become a valued member of your team and would appreciate the opportunity to do so.
If you would like to discuss my CV or application further, please do not hesitate to contact me.
I look forward to hearing from you in the near future.
Yours sincerely (faithfully if Dear Sir/Madam)
HR Administrator Cover Letter
Dear Ms Pope,
I am extremely interested in the Human Resources administrator position that is advertised on the Job Centre website. Please accept this letter and attached CV for your consideration
I have a wide combination of experience including; a selection of managerial and administrative titles held in the past, extensive customer service experience and the ability of adapting to an independent or team oriented environment, leads me to think that I would be a good candidate for the position offered.
The positions that make up my employment history and formal education have exposed me to many key facets of running and working in a healthy, prospering business environment. In return it has made me knowledgeable in areas such as retention, hiring, performance management, operations, employee relations, quality customer service and management.
I am a conscientious employee, with an ability to communicate with both my co-workers and customers professionally, efficiently and with a great team oriented attitude. Therefore, I will prove to be an asset to your company. I can assure you that my work experience will help me achieve all goals expected of me.
If you would like more information or would like to arrange an interview, please contact me at your earliest convenience.
Yours sincerely