If you have been offered a job from a company or employer then you may need to write a job acceptance letter. Here is an example of job acceptance letter for you amend as suitable and use for yourself.

Company Name
Address
Town/City
Post Code
Dear Mrs Brown,
I am very pleased to learn that I have been offered the Sale Assistant job at Tesco (replace the company if it's not Tesco).
I am happy to work for Tesco and please accept this letter as my formal acceptance of the position. As it was saying in the offer letter I will start working on 23th June 2013.
I understand that the starting salary will be £18,249 and I look forward to starting work for your company.
If you require any further information or documentation from me then please let me know.
Your sincerely
Your Name
Address
Town – City
Post Code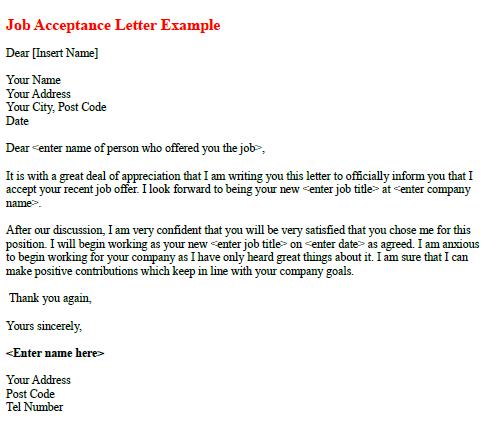 View more job acceptance letter examples?
Job Offer Thank You Letter
Job Offer Acceptance letter sample
Phone interview thank you note sample
Basic interview thank you note sample
Job Acceptance Letter sample
Job Rejection Letter Example
Thank you note for a second interview
Interview thank you letter addressing concerns sample
Follow Up Letter Template Examples
Follow Up Job Interview Thank You Note Example
Example Follow-Up Letter to a Job Application
Example Follow-Up Letter After Submitting a CV
CV Follow Up Letter Example