If you have got an interview to be an adult nurse then you will have completed your nursing training and gained enough practical experience to be able to operate as a nurse.
As well as having the practical nursing skills you will also need to have excellent communication skills and a kind nature to be able to provide kindness and compassion to some sick patients and to be able to console their relatives and deal with visitors etc.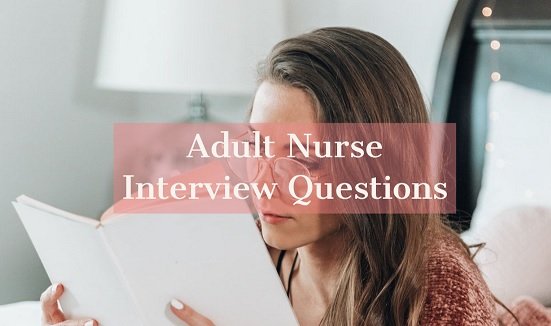 Before your interview, analyse your skills and qualifications and match this closely with the job description or job advert to ensure that you are ready for the challenge and that you feel confident with the skills that you already have. Your interviewer will be looking to ensure that you have the correct skills.
Adult Nurse Interview Questions
Qualifications and practical work experience and could ask questions such as:
Why do you want to work with Adults? What previous experience do you have of Adults?
What do you least like doing as a nurse?
What do you most like doing?
How will you travel to the hospital and how long will this take?
How would you deal with a difficult patient and or their family?
How important is record keeping and paperwork in your eyes?
What do you understand about medicines and dosages?
What is your weakness?
What motivates you?
How would you handle a patient who complains about everything?
What interests you about working here?
What made you choose nursing as a career?
How would you set up an audit programme?
What do you find most rewarding about being a nurse?
How do you handle stress on the job?
Your interviewer could be a panel interview at a hospital so it's important to go through the interview information carefully to ensure that you are aware if you will be interviewed by more than one person at once and also to find out if they will perform any tests at your interview.
Good luck.