Nurse CV example and template. Amend as suitable and start using for your job applications.
You can find thousands of Nursing job vacancies on the job sites online including jobs.nhs.co.uk, cv-library.co.uk, Learnist.org, reed, totaljobs and Jobsite.
You can visit those job boards and start searching for current vacancies and apply for the ones that are near your or you are prepared to relocate.
– You may also need to write a cover letter as well. Click here to view covering letter examples.
– Visit our job seekers forums to ask you career related questions.
– View typical interview questions and answers.
Here is your Nurse CV Example: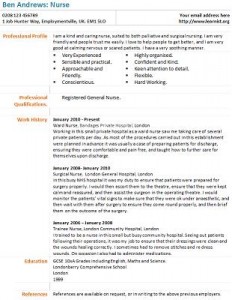 Ben Andrews: Nurse
0208 123 456789

1 Job Hunter Way, Employmentville, UK. EM1 5LO

Your email address here

Professional Profile

I am a kind and caring nurse, suited to both palliative and surgical nursing. I am very friendly and people trust me easily. I love to help people to get better, and I am very good at calming nervous or scared patients. I have

a very soothing manner.

Very Experienced
Sensible and practical.
Approachable and Friendly.
Conscientious.

Highly organised.
Confident and Kind.
Keen attention to detail.
Flexible.
Hard Working.

Professional Qualifications.

Registered General Nurse.

Work History

January 2010 – Present

Ward Nurse, Bandages Private Hospital, London

Working in this small private hospital as a ward nurse saw me taking care of several private patients per day. As most of the procedures carried out in this establishment were planned in advance it was usually a case of preparing patients for discharge, ensuring they were comfortable and pain free, and taught how to further care for themselves upon discharge.

January 2008- January 2010

Surgical Nurse, London General Hospital, London

In this busy NHS hospital it was my duty to ensure that patients were prepared for surgery properly. I would then escort them to the theatre, ensure that they were kept calm and reassured, and then assist the surgeon in the operating theatre. I would monitor the patients' vital signs to make sure that they were ok under anaesthetic, and then wait with them after surgery to ensure they come round properly, and then brief them on the outcome of the surgery.

January 2006 – January 2008

Trainee Nurse, London Community Hospital, London

I trained to be a nurse in this small but busy community hospital. Seeing out patients following their operations, it was my job to ensure that their dressings were clean and the wounds healing correctly. I sometimes had to remove stitches and re dress wounds. On occasion I also had to administer medications.

Education

GCSE

10xA Grades including English, Maths and Science.

Londonberry Comprehensive School

London

1999

References

References are available on request, or in writing to the above previous employers.
Get Nursing CV Template now in Doc format and start editing.
These CV templates are the copyright of Learnist.org, 2012. Jobseekers may use these CV examples for their own personal use to help them create their own CVs. You are most welcome to link to https://www.learnist.org/manager-cv-example/. However they may not be distributed or made available on other websites without our permission. If you have any question then contact us!