Office Clerk CV example for you to write your own. Just replace the information with your own. Do not use the same information as below since many other people may do the same. It is important not to lie on your CV. Employers would eventually find out any information that is not right.
Countless of Office Clerk opportunities across the UK are waiting for you. You can work in any office for any company.
Office Clerk CV Example
[Type the date]
[Type your name]
[Type your phone number]
[Type your e-mail]
[Type your address]
[Type your website]
Personal Summary
Efficient, passionate and organised Office Clerk experienced in working in a busy office. Consistently demonstrates accurate spelling, grammar and general working, even under pressure. Able to problem solve in a variety of different situations. I am an energetic and enthusiastic person who enjoys challenge and achieving personal goals. I have also worked as an effective member of a team, working under tight deadlines to get job done but get it done to an excellent standard. I love to work in a retail environment as I love to interact with people. i am fun loving and like to keep a positive attitude at all times, reflected both in my own work and the working environment. I am extremely cooperative with colleagues and customers.
Work Experience
Office Clerk – Apr-09 – Present
Manchester City Council | Manchester
Ensure the administrative tasks are completed to allow the smooth running of the office on a daily basis. As part of a team, assist the senior managers to undertake additional tasks as and when required, including some reception duties.
Duties:
• Entering and updating contact details, suppliers information etc.
• Typing up documents, issuing memos
• Faxing, printing, filing and scanning
• Maintaining accurate records and filing systems
Key Skills
• CLAIT qualification
• Consistently accurate spelling, grammar and general working
• Able to communicate effectively with individuals at all levels
• Type at 65+ words per minute
Education
Nottingham University 2006-2009| BSc (Hons) History High School 2004 – 2006| A-Levels: History (B) Maths (C) Physical Education (A)
References Available upon request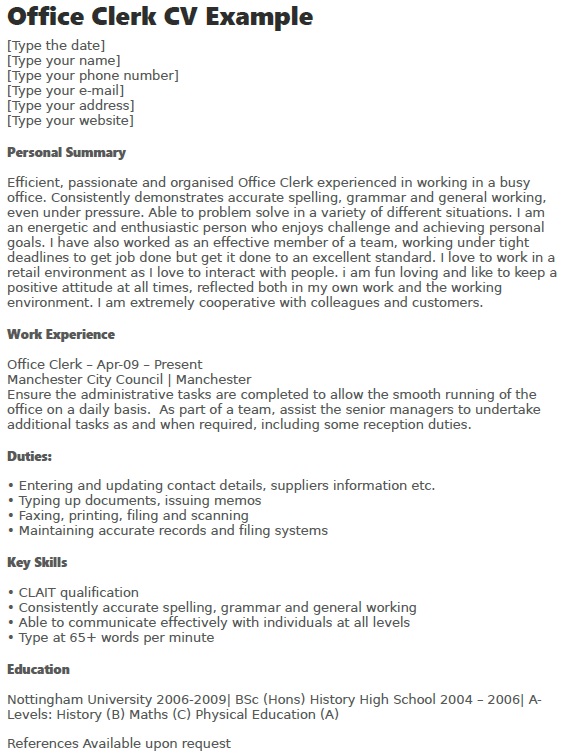 Good luck with writing your CV and don't forget to comment below if you have any question at all.