Use this CV example if you are going to apply for a Ombudsman or Ombudsman Manager jobs in the UK. You should amend this example as suitable before sending it to the employers.
As an ombudsman manager, you'll lead a small team of investigators – helping them sort out our customers' problems with financial services. Your sound judgment and leadership skills will help your team reach answers that are fair and feel fair. And when that doesn't resolve things, it'll be up to you to make legally binding final decisions.
You'll be a natural, open minded problem-solver, using common sense to resolve complex and challenging situations. Motivated by doing the right thing, you'll cut through confusion to give people the help they need in a clear and balanced way – all the time leading, motivating and inspiring your team to deliver an excellent service for our customers.
Ombudsman CV Example
[Type the date]
[Type your name]
[Type your phone number]
[Type your e-mail]
[Type your address]
[Type your website]
Personal Summary
Committed, motivated and well-organised Ombudsman experienced working within a busy department. Demonstrates excellent interpersonal skills to gather information and investigate matters. Able to remain impartial.
Work Experience
Local Government Ombudsman – Mar-08 – Present
Local Government| Manchester
As part of a team providing effective and impartial investigations into complaints lodged using systematic processes gathering and analyzing information. Presenting the facts of the each case verbally and in a written report, some of which remained within the public domain.
Duties:
• Investigate complaints filed
• Monitoring the development and implementation of company policies and national laws
• Timely submission of reports as required
Key Skills
• Excellent communicator with good interpersonal skills
• Focused on the key issues and able to remain impartial
• Excellent
Education
High School
2005 – 2007| A-Levels:
English (B) Maths (B) History (B) Art (A)
References
Available upon request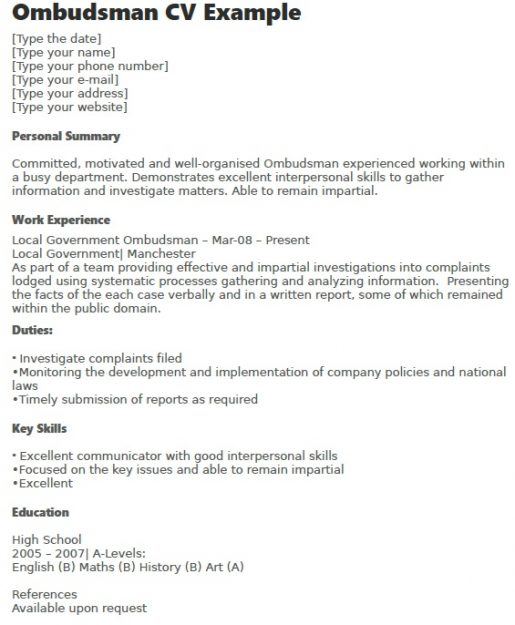 Good luck with your job application and CV writing. Don't forget to comment below if you have any question about the cv example on this page.