Cover letter example for a Part Time Admin job. Amend as suitable and start applying for Part Time Admin jobs.

Dear Sirs
I should like to apply for the position of part-time Administrator, as advertised recently. I have a young family and am looking for a part-time administration role now that the children are at school. I have been working at their school on a part-time basis, assisting the school secretary and helping with general office duties, and the organisation of school fund-raising projects. This role was temporary maternity cover; hence I am now seeking an alternative part-time role. I am used to working in an office, am a trained typist and trained on various software packages such as Microsoft Office (word, excel and powerpoint). I enjoy being with people and being part of a close knit team.
I am efficient and capable and very well organised and would very much like the opportunity to discuss this role in more detail with you.
I am available for interview at your convenience and references are available on request.
I attach my CV and look forward to hearing from you as appropriate.
Yours faithfully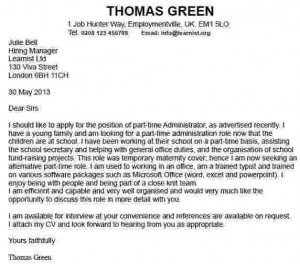 part time admin cover letter example
Related job guides:
– Part Time Admin cover letter example.
– View more cover letter examples.