Plumber CV example and template. Amend as suitable and create your own CV in seconds. You can then apply for Plumber job vacancies where available.

There must be thousands of Plumber vacancies on the job sites online and you can find many more on the local newspapers which you can apply with your newly created CV.
Once you have CV done then it's time to write a cover letter for your job applications. Here is Plumber cover letter example.
If you have any questions about your career then visit our job seekers forums today.
Here is the Plumber CV example: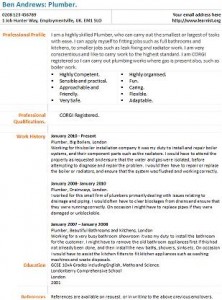 Ben Andrews: Plumber.
0208 123 456789

1 Job Hunter Way, Employmentville, UK. EM1 5LO

Your email address here

Professional Profile

I am a highly skilled Plumber, who can carry out the smallest or largest of tasks with ease. I can apply myself to fitting jobs such as full bathrooms and kitchens, to smaller jobs such as leak fixing and radiator work. I am very conscientious and like to carry work to the highest standard. I am CORGI registered so I can carry out plumbing works where gas is present also, such as boiler work.

Highly Competent.
Sensible and practical.
Approachable and Friendly.
Very Safe.

Highly organised.
Fun.
Caring.
Flexible.
Adaptable.

Professional Qualifications.

CORGI Registered.

Work History

January 2010 – Present

Plumber, Big Boilers, London

Working for this boiler installation company it was my duty to install and repair boiler systems, and their component parts such as the radiators. I would have to attend the property as requested and ensure that the water and gas were isolated, before attempting to diagnose and repair the problem. I would then have to repair or replace the boiler or radiators, and ensure that the system was flushed and working correctly.

January 2008- January 2010

Plumber, Drainways, London.

I worked for this small firm of plumbers primarily dealing with issues relating to drainage and piping. I would often have to clear blockages from drains and ensure that they were running correctly. On occasion I might have to replace pipes if they were damaged or unblockable.

January 2007 – January 2008

Plumber, Beautiful Bathrooms and Kitchens, London

Working for a very busy bathroom showroom it was my duty to install the bathroom for the customer. I might have to remove the old bathroom appliances first if this had not already been done, and then install the new baths, showers, sinks etc. On occasion I would have to assist the kitchen fitters to fit kitchen appliances such as washing machines and waste disposals.

Education

GCSE

10xA Grades including English, Maths and Science.

Londonberry Comprehensive School

London

2001

References

References are available on request, or in writing to the above previous employers.
This CV Example cannot be published on any other site without prior permission however you are more than welcome to link to this page.