Project Manage CV example and template. Amend as suitable and use it for your job applications.
There are hundreds of Project Manager job vacancies on the job sites online including cv-library.co.uk, reed, totaljobs and Jobsite.
All you need to do is create your CV and write your covering letter and start searching current vacancies on those job boards.
View the CV example given below and try to make your own one.
– Click here to view more CV examples on our job seekers forums.
– If you a required to write a cover letter too then click here to view the examples.
– Project Manager salary and average pay rates in the UK.
– Project Manager cover letter example.
– Project Manager interview
Here is your Project Manager CV Template: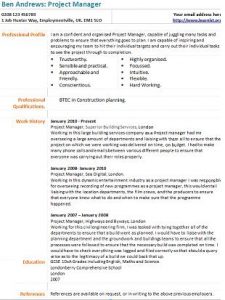 Ben Andrews: Project Manager
0208 123 456789

1 Job Hunter Way, Employmentville, UK. EM1 5LO

Your email address here

Professional Profile

I am a confident and organised Project Manager, capable of juggling many tasks and problems to ensure that everything goes to plan. I am capable of inspiring and encouraging my team to hit their

individual targets and carry out their individual tasks to see the project through to completion.

Trustworthy.
Sensible and practical.
Approachable and Friendly.
Conscientious.

Highly organised.
Focussed.
Intuitive.
Flexible.
Hard Working.

Professional Qualifications.

BTEC in Construction planning.

Work History

January 2010 – Present

Project Manager, Superior Building Services, London

Working in this large building services company as a Project manager had me overseeing a large amount of departments and liaising with them all to ensure that the project on which we were working was delivered on time, on budget. I had to make many phone calls and emails between various different people to ensure that everyone was carrying out their roles properly.

January 2008- January 2010

Project Manager, Sea Digital, London.

Working in this dynamic entertainment industry as a project manager I was responsible for overseeing recording of new programmes as a project manager, this would entail liaising with the location departments, the film crews, and the producers to ensure that everyone knew what to do and when to make sure that the programme happened.

January 2007 – January 2008

Project Manager, Highways and Byways, London

Working for this civil engineering firm, I was tasked with tying together all of the departments to ensure that a build went as planned. I would have to liaise with the planning department and the groundwork and buildings teams to ensure that all the processes were followed to ensure that the necessary build was completed on time. I would have to check everything was logged and filed correctly so that should a query arise as to the legitimacy of a build we could back that up.

Education

GCSE

10xA Grades including English, Maths and Science.

Londonberry Comprehensive School

London

2007

References

References are available on request, or in writing to the above previous employers.
Get this Project Manager CV Example and start working on it.
These CV templates are the copyright of Learnist.org, 2012. Jobseekers may use these CV examples for their own personal use to help them create their own CVs. You are most welcome to link to https://www.learnist.org/project-manager-cv-example/. However they may not be distributed or made available on other websites without our permission. If you have any question then contact us!